"I've run many marathons in many places. I ran a marathon through the Black For­est in Ger­many. But there's just some­thing about [run­ning at] the Arbore­tum. It's a great place to run," Dave Roy said.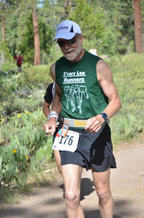 Dave devel­oped a pas­sion for run­ning ear­ly. While attend­ing Cor­nell, he was asked to fill in on a cross coun­try team, even though he was a soc­cer play­er by pref­er­ence. After a suc­cess­ful sea­son, he was encour­aged to pur­sue run­ning – and did. He ran his first marathon in 1976. Dave is one of the orig­i­nal mem­bers of the S'cary Leg Run­ners, whose mis­sion is to devel­op a run­ning com­mu­ni­ty in Schoharie Coun­try. Dave has passed on his love of the sport to his chil­dren. This spring he plans to run the Fly­ing Pig Marathon in Cincin­nati, OH, with his daugh­ter Lori. Dave, Lori, and his son Stephen will all run the Ham­ble­ton­ian Marathon in New York's Hud­son Val­ley this fall. On Dave's buck­et list is the Hum­boldt Marathon through the Giant Red­woods of California.
Dave admit­ted a fond­ness for trail run­ning – the runner's ​"off road" race. Six years ago, he agreed to chair the Lan­dis Peren­ni­al For­est 5K, now in its 11th season.
The Lan­dis race is a rather unique event, accord­ing to Dave. Road races, he said, get all the atten­tion, large­ly because dis­tances can be accu­rate­ly doc­u­ment­ed and records ver­i­fied. They tend to draw a more com­pet­i­tive group of run­ners. A trail race, although com­pet­i­tive in that run­ners are moti­vat­ed by plac­ing or a notion of ​"per­son­al best," is a dif­fer­ent kind of chal­lenge, one reward­ed by the sheer plea­sure of run­ning in nat­ur­al sur­round­ings on nat­ur­al sur­faces. Dave con­veyed the exhil­a­ra­tion he feels when emerg­ing from the woods into the open mead­ow near the Meet­ing House as the vista of the Schoharie Val­ley comes into view. ​"Peo­ple don't know what it's like until they actu­al­ly run … [the Lan­dis 5K] and enjoy it .… [It takes place] in one of the most scenic coun­ties around," Dave said.
Dave and his wife Sher­ry both grew up in farm fam­i­lies and raise beef, sheep, and goats on their Schoharie farm. Dave's oth­er full-time job is with the seed divi­sion of Grow­mark. His respon­si­bil­i­ties include research and plant breed­ing, as well as set­ting up vari­ety tri­als in East­ern New York State. Dave has a degree in agron­o­my – his wife would say that he has ​"a degree in dirt," Dave quipped. Sherry's oth­er full-time job is as a reg­is­tered nurse for the Schoharie School District.
When Dave's job occu­pied his time, Sher­ry took the kids to all sorts of events at the Arbore­tum: hunt­ing frogs, hik­ing, and look­ing for owls – as well as class­es in draw­ing from nature, tree iden­ti­fi­ca­tion, and bee­keep­ing. Yes, star par­ties and, of course, the twice annu­al book and plant sales too.
Dave runs. Sher­ry doesn't. But both have found a place in their busy sched­ules for the Arboretum.
---
---