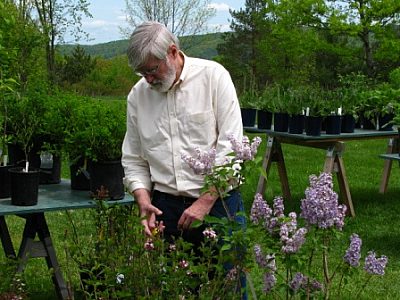 The Spring sale is the weekend after Mother's Day, the perfect time to be planting for the beginning of the growing season.

The Fall sale is a wonderful time to be planting perennials.

Both sales features selections from respected local consignors, plants grown and tenderly potted up by Landis volunteers, and plants grown in our own greenhouse. We feature many native plants, and often have a "theme" plant type for the spring sale.
Both sales begins with a Pick of the Pots (POPS) preview sale and party for Arboretum members on the Friday evening before the sale weekend (check out Activity Calendar for times). If you are not currently a member, we will happily help you join at the gate! The sale continues on Saturday and Sunday from 10 am to 4 pm in both seasons.
What's all the fuss about?
Twice each year, Landis hosts one of the best plant sales you'll find - and enhances them with wonderful baked goods and a Book Sale Room chock full of books (many about gardening and related topics, but also fiction, philosophy, fun . . . you name it!)The sales have become a perennial favorite with many of our members and friends. Here is a sampling of what they have to say:
"We return each year... because we are looking for something unique and unusual... and we've never been disappointed."
"It's a great learning experience. The plant sale draws plant collectors, gardeners, and enthusiasts with an immense body of [horticultural] knowledge..."
"Ed Miller gives the best native plant tours. After one of Ed's tours, I will never see an Adirondack bog the same again."
"It's a great time to socialize and meet new friends. Landis does not lack for interesting and colorful personalities."
"... we will continue to shop at the Landis sales to support the Arboretum, to show our appreciation for the hard work that putting the sale together entails, to search for just the right plant, and to see what the weather on the hill be will THIS year!"
"Just when you think you don't need any more plants, you realize that you do!"
And yes, we can always use volunteers -- for setup before the sale, cleanup afterward, all sorts of things during the sale, as well as baking for our bake sale and book donation for our book sale.
Contact us at volunteering@landisarboretum.org for more information!