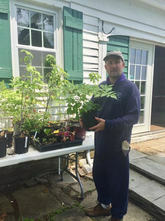 Stephen Cush­ing was dri­ving to class­es at SUNY Oneon­ta when he noticed the sign for the Lan­dis Arbore­tum. Some­thing clicked: he was look­ing for a place for a sum­mer intern­ship. Could Lan­dis be a pos­si­bil­i­ty? And it was: Stephen will be work­ing at the Arbore­tum through­out the summer!
After a pro­duc­tive meet­ing with Exec­u­tive Direc­tor Fred Breglia, Stephen start­ed his intern­ship dur­ing the week of the Spring Plant Sale. He was most impressed by the ​"army of vol­un­teers" and the ​"com­mu­ni­ty spir­it" he found. Most of all, he loved the ​"wel­com­ing atmos­phere." Stephen quick­ly not­ed that all lev­els of abil­i­ty and knowl­edge, from the for­mi­da­ble exper­tise of Ed Miller, cura­tor of the Native Plant Trail, to the ded­i­cat­ed efforts of the ama­teur gar­den­er, were accom­mo­dat­ed in mak­ing that event a success.
Stephen admit­ted that at first he was con­front­ed by the ques­tion, ​"What is an arbore­tum?" So far, his expe­ri­ence at Lan­dis has chal­lenged his expec­ta­tions. He remarked that, unlike some oth­er arbore­ta, Lan­dis had no con­ces­sion stands, no zip-line, no glam­orous man­i­cured plant­i­ngs. ​"This place was ​'wilder­nessy' — that was my ini­tial reac­tion. Here is per­fect," he said, a place that com­bines pris­tine nature with planned specimens.
The goal of Stephen's intern­ship is to achieve a ​"holis­tic" under­stand­ing of the Arbore­tum: ​"what makes Lan­dis run?" He will work with the direc­tor, the office man­ag­er, the grounds crew, the Board, the var­i­ous com­mit­tees, and, most impor­tant­ly, the vol­un­teers. He'll also talk with vis­i­tors to the Arbore­tum. He'll be attend­ing meet­ings, class­es, and events as well. He antic­i­pat­ed a writ­ing work­shop, Sci­ence Edu­ca­tor George Steele's bird walk, and at least one star party.
Stephen grew up in New Lon­don, CT, close to the ocean and, with his four broth­ers, ​"always out­doors." After grad­u­at­ing from high school, he did a stint in the mil­i­tary, where his expe­ri­ence ranged from infantry to tank mechan­ic. Since then, he has held a series of odd jobs and is cur­rent­ly work­ing nights at a chem­i­cal plant in Water­ford, NY. He is also pur­su­ing a degree in biol­o­gy and anthro­pol­o­gy at SUNY Oneon­ta, and he felt that his intern­ship at Lan­dis will enrich his under­stand of both fields, focus­ing on the rela­tion­ship between man and nature.
His inter­ests range from sports ("how sports mim­ic a cul­ture") to the study of reli­gions (its impact on how we struc­ture our lives), those aspects of expe­ri­ence that lead us to see beyond the literal.
Hav­ing had a pre­vi­ous intern­ship with the NYS Muse­um in Albany, he is con­vinced of the val­ue of learn­ing out­side the for­mal class­room. The Arboretum's bog gar­dens are a case in point, he said. Not only are they inter­ac­tive, but they also alter one's perspective.
Stephen has had time to rethink his notion of an arbore­tum. ​"It's an organ­ic muse­um, a liv­ing, breath­ing muse­um," he said. A vis­it to the Arbore­tum, he insist­ed, will ful­fill a very human need. ​"Come here and think about things," he advised. The things that matter.
Stephen can attest that Lan­dis will offer you food for thought.
---
---