The Arboretum's Boy Scout Troop 501 is alive and well and thriv­ing — at a time when oth­er near­by troops have ceased operation.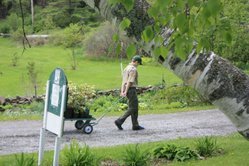 Scout­mas­ter Chuck Whit­man attrib­ut­es the troop's suc­cess to ​"a core of ded­i­cat­ed lead­ers … who as adults get along very well togeth­er" and encour­age the par­tic­i­pa­tion of par­ents and sib­lings. This ​"fam­i­ly-ori­ent­ed troop" even includes Chuck and Lisa Whitman's son Chris, who has returned as a young adult to serve as an Assis­tant Scout­mas­ter, men­tor­ing the boys as oth­ers did before him. An inte­gral part of Lan­dis, the troop serves the Arbore­tum at each plant sale and con­tributes in many oth­er ways, at the same time reap­ing the ben­e­fits of the out­door class­room that the Arbore­tum offers. Ear­ly this sum­mer, the troop host­ed a region­al Cam­poree in a new prim­i­tive camp­ing area for scouts at Lan­dis, and will con­tin­ue to use it through­out the year.
Scout­ing sure­ly helps boys on their jour­ney to become men, and nowhere is the trans­for­ma­tion more appar­ent than in the attain­ment of Eagle Scout rank. Only about 5% of Scouts nation­wide are award­ed this pres­ti­gious per­for­mance-based rank.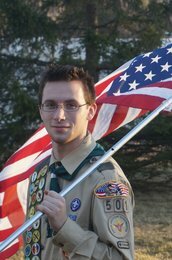 Jake Carl­son is the troop's most recent Scout to earn this sta­tus. Jake point­ed to a younger boy, new to scout­ing, and not­ed, ​"I was just like him, shy." Jake admit­ted that ​"it was chaot­ic" in the begin­ning, but over the years he has appre­ci­at­ed ​"all this knowl­edge I've accu­mu­lat­ed; I want to give back." He sees scout­ing as ​"a very good learn­ing oppor­tu­ni­ty." And a place to build last­ing rela­tion­ships, what Jake called ​"life friends." Scout­ing has giv­en him valu­able skill sets, self-con­fi­dence, and the entre­pre­neur­ial spir­it. Now Jake is poised to begin stud­ies at Adiron­dack Col­lege. His dream is to start a busi­ness in an out­door set­ting with year-round activ­i­ties and phys­i­cal chal­lenges. That would be a big step for the once shy boy from Mari­av­ille whose moth­er Deb­bie asked him, ​"Do you want to go to some­thing called ​'Scouts'?"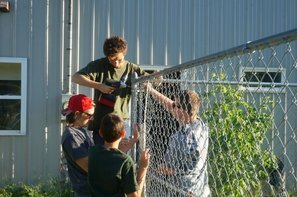 Jake's Eagle Scout project demon­strates anoth­er kind of rela­tion­ship scout­ing can fos­ter for young men, a bond with their com­mu­ni­ty. The Ani­mal Shel­ter of Schoharie Val­ley had land, but no secure yard to exer­cise the ani­mals in its care. Enter an eager Jake Carl­son, who likes dogs and who thought it was a good match, although ​"It was a big chal­lenge." He had to solic­it and gath­er dona­tions of mate­ri­als, assem­ble a cadre of peo­ple to per­form the work, and return to make mod­i­fi­ca­tions to the design of the fence. The three actu­al work days spent at the shel­ter were just a small frac­tion of the time spent to plan and exe­cute this project; over 208 vol­un­teer hours were record­ed on Jake's Eagle Scout application.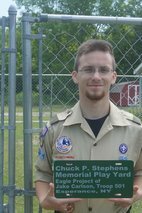 In the end, the Chuck P. Stephens Memo­r­i­al Play Yard was com­plete, giv­ing home­less ani­mals a bet­ter chance to exer­cise and social­ize before find­ing new homes. The project also gave a young man a tremen­dous life les­son in what scout­ing is about. It is that very same life les­son first taught by the late Scout­mas­ter Chuck Stephens, whose mem­o­ry Jake con­tin­ues to hon­or both at the shel­ter and at his Eagle Scout cer­e­mo­ny, nam­ing Mr. Stephens as his mentor.
The Lan­dis fam­i­ly shares the pride Jake's fam­i­ly feels in what he has accom­plished, and in wher­ev­er he is head­ed, because we know, as Jake stat­ed so sim­ply, ​"Once an Eagle Scout, always an Eagle Scout."
---
---