It could have been any late fall day at Lan­dis. The skies shift­ed ever so slow­ly from threat­en­ing clouds to cleans­ing rain and, sud­den­ly, cleared. The weath­ered barn door of the Meet­ing House was thrown open, and as if on cue a lumi­nous dou­ble rain­bow span­ning the Schoharie Val­ley appeared.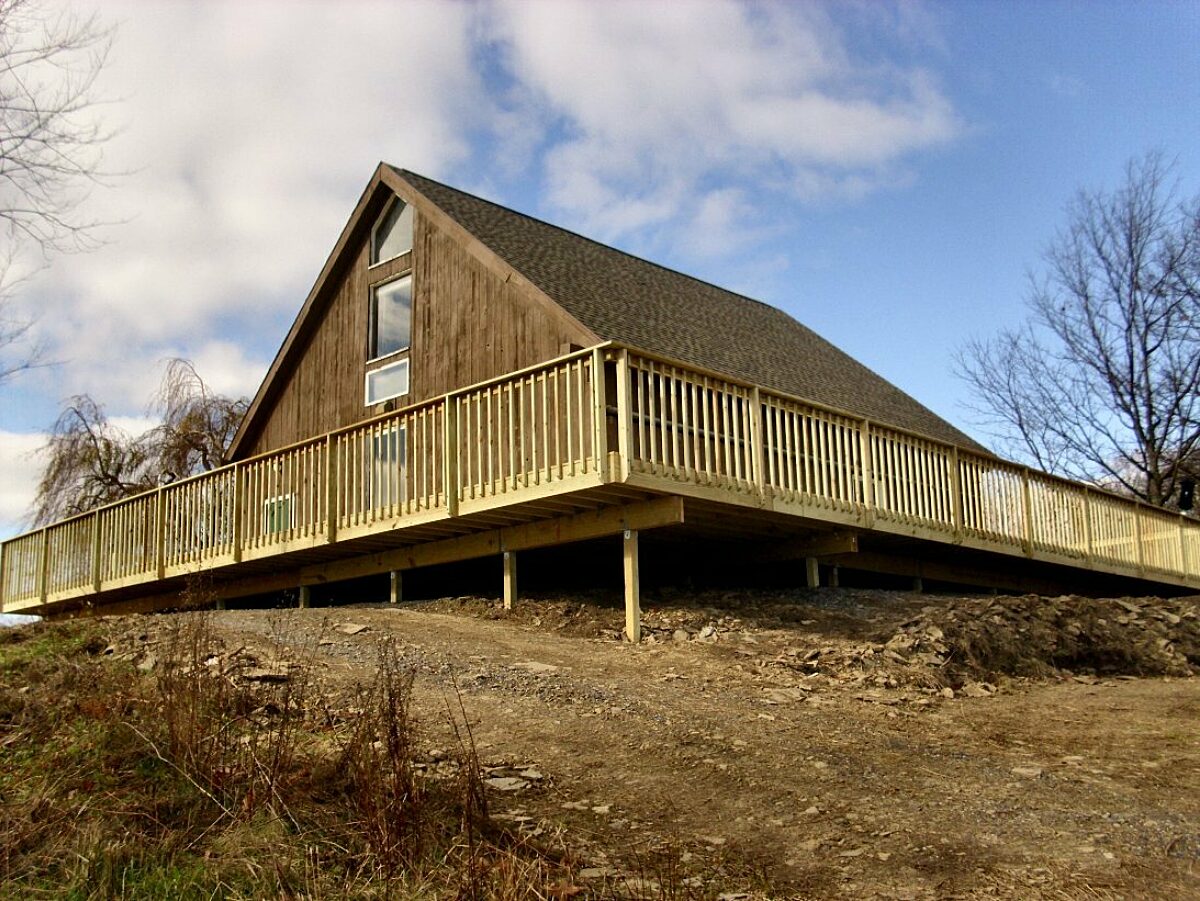 Though the Meet­ing House barn door is gone, the view seen through two walls of win­dows and glass doors is no less spec­tac­u­lar. A wrap-around deck has recent­ly been enhanced by a stone retain­ing wall. Land­scap­ing and a patio allow­ing addi­tion­al seat­ing are planned for the spring. And so the improve­ments to the Meet­ing House progress. Some, like those men­tioned, are vis­i­ble at first glance, while oth­ers qui­et­ly ele­vate the func­tion­al­i­ty of the facil­i­ty. These enhance­ments include grav­el paths, roof vents, a stor­age shed with counter space, a widened dri­ve­way, and addi­tion­al out­side lighting.
But the real mag­ic is what has been hap­pen­ing inside and around the struc­ture. Events, big and small, have filled the space with vis­i­tors: birth­day cel­e­brants, music afi­ciona­dos and bud­ding stars, pic­nick­ers, employ­ee groups, and wed­ding par­ties. As Spe­cial Events Coor­di­na­tor Wendy Kass said, ​"We're just get­ting start­ed." She and Board Pres­i­dent Jim Paley teamed up with local music pro­mot­ers, Sam and Noël Bates and Jim Miller, to estab­lish an Arts and Enter­tain­ment Com­mit­tee and present two ongo­ing musi­cal events, the Full Moon Music Series and the Lan­dis Acoustic Music Series. These were joined by a host of oth­er per­for­mances includ­ing the Upper Catskill String Quar­tet, the Albany Gay Men's Cho­rus, and mul­ti­ple Open Mic nights.
Next year's sched­ule will be even bet­ter with oth­er notable per­form­ers to attract new audi­ences. And then there are the wed­dings, Wendy's area of spe­cial inter­est. After last year's near­ly half a dozen book­ings, she has already had 42 addi­tion­al inquiries. Rur­al wed­dings are trend­ing, and Lan­dis has proven itself an ide­al choice for cou­ples seek­ing a mix of rus­tic tran­quil­i­ty, sim­ple ele­gance, and an unmatched scenic locale. Afford­abil­i­ty and prox­im­i­ty to the Cap­i­tal Region are oth­er impor­tant assets. Wendy not­ed, ​"They are so wel­comed; we're a fast-grow­ing part of the Arbore­tum .… This is from zero to 60 in three years."
Indeed, just a few years ago, none of this seemed pos­si­ble. With the momen­tum fueled by the growth of the Arts & Enter­tain­ment and Spe­cial Events Com­mit­tees, suc­cess­ful fundrais­ing and grant writ­ing, and enthu­si­as­tic response from the pub­lic and Arbore­tum sup­port­ers, ​"The Meet­ing House Com­plex" is becom­ing a real­i­ty. As Jim promised, ​"We're not done yet." The future might include solar pan­els, addi­tion­al land­scap­ing by the pond, and, of course, ful­ly acces­si­ble bath­rooms, mak­ing the Meet­ing House tru­ly wel­com­ing as a three-sea­son class­room and event space. Wendy and Jim agree: ​"The sky's the limit."
---
---