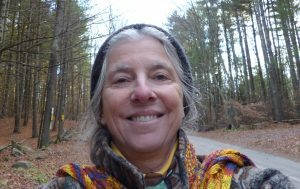 It was only a mat­ter of min­utes, but Ani­ta Sanchez's first encounter with the Arbore­tum proved to be a last­ing one.
Ani­ta was work­ing at the Five Rivers Envi­ron­men­tal Edu­ca­tion Cen­ter when she respond­ed to a request for a wild­flower talk from Fred Lape, the Arboretum's founder. She was greet­ed by the elder­ly Lape and was imme­di­ate­ly struck by his ​"great gen­til­i­ty" and ​"his Old World cour­tesy." She knew that she was in the pres­ence of a remark­able per­son – and a remark­able place only ten min­utes from her new­ly acquired home.
Ani­ta has since giv­en many walks and work­shops, some­times in con­junc­tion with her hus­band, Sci­ence Edu­ca­tor George Steele. She not­ed that she often refers to her Arbore­tum vis­its as ​"going to my branch office." Walk­ing its trails helps her to over­come a writer's block or unrav­el a snag in her work – com­bin­ing work and play.
A nature writer with a wide age-rang­ing audi­ence, she admits an affin­i­ty for the less appre­ci­at­ed of the plant world. Her first book, The Teeth of the Lion, explored the famil­iar and often despised dan­de­lion. Her cur­rent work, Leaflets Three, Let It Be!, extols poi­son ivy's invalu­able role in nature. ​"I look for char­ac­ters that get a strong emo­tion­al response from the read­er." she con­fessed. Oth­er works include a his­to­ry of the Shak­ers dur­ing the Civ­il War and a his­to­ry of the inva­sion at Sandy Bay, Mass­a­chu­setts dur­ing the War of 1812. With a release date in 2016, her newest book for young adults, Car­o­lus Lin­naeus and the Nam­ing of Every­thing, is a trib­ute to the great botanist.
Ani­ta earned a degree in ecol­o­gy and con­ser­va­tion from Vas­sar Col­lege in the heady years after the first Earth Day. She began a career in nature-cen­tered edu­ca­tion for chil­dren near­ly 40 years ago, becom­ing an edu­ca­tor at heart as well as by pro­fes­sion. Con­cerned about the grow­ing trend of children's iso­la­tion from, and some­times, fear of nature, she has devel­oped pro­grams that reas­sure chil­dren ​"who grow up in the sub­urbs with man­i­cured lawns" that nature is ​"fun and safe."
She would encour­age peo­ple of all ages to vis­it the Arbore­tum – ​"for self­ish rea­sons," she said, not­ing that recent stud­ies have shown pos­i­tive health effects from being in the nat­ur­al world. ​"For­est bathing," it's called, and it can sig­nif­i­cant­ly reduce heart rate, blood pres­sure, and stress lev­els. ​"Vol­un­teer­ing at the Arbore­tum would be real­ly good for you," she said.
Ani­ta often thinks of that meet­ing with Fred Lape many years ago. ​"There's so much bad envi­ron­men­tal news these days .… . It's easy to fall into apa­thy and despair. But I tell kids one per­son can make a dif­fer­ence," she mused. ​"It start­ed with an idea and a love of this place. I think about the hun­dreds or maybe thou­sands of peo­ple who've come here and learned. I think about what he has done for future gen­er­a­tions, not only of peo­ple but of plants and animals."
Just as Fred Lape made a dif­fer­ence in Anita's life, so Ani­ta has made a dif­fer­ence in the lives of others.
---
---