On the last Sun­day in Sep­tem­ber, more than 50 Arbore­tum mem­bers and sup­port­ers gath­ered at the Meet­ing House. The sto­ried view from its deck did not dis­ap­point. Bright skies and even brighter smiles were every­where, as friend­ships were made or rekin­dled. Lan­dis staff and the Board of Trustees host­ed this annu­al event to rec­og­nize and cel­e­brate the Arboretum's volunteers.
"It's an amaz­ing group of peo­ple," Board Pres­i­dent Jim Paley said of the vol­un­teers who bring their time and tal­ents to Lan­dis. ​"It's hard to say thanks too many times," acknowl­edged Exec­u­tive Direc­tor Fred Breglia, as both men praised the peo­ple who make the Arbore­tum the ​"gem" we all speak of.
This year's award win­ners were Nan Williams and Sue Tricario.
Nan, known to every­one as the Lan­dis author­i­ty on ferns, was pre­sent­ed with the Great Oak Award, bestowed on some­one who has pro­vid­ed exten­sive and long-term ser­vice. She was cit­ed for her inte­gral role in the cre­ation and growth of our trails, as well as her con­sid­er­able botan­i­cal exper­tise. Shar­ing Nan's big moment at her table were Native Plant Trail cura­tor (and Nan's pro­lif­ic lit­er­ary part­ner) Ed Miller, and Ed's son Nick and his wife Hillary.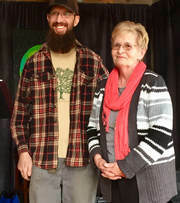 As Fred empha­sized, the Arbore­tum ​"has so many great tal­ents, so many diver­si­fied tal­ents", ren­der­ing it dif­fi­cult each time to iden­ti­fy any one ​"vol­un­teer of the year." This year's award went to Sue Tri­cario, who has stepped up to take on a vari­ety of projects, as Fred not­ed, ​"revamp­ing and com­ing up with more great ideas to grow so many events." From expand­ing the scope and fre­quen­cy of our book sales to man­ag­ing a new favorite, a pop­u­lar raf­fle fea­tur­ing local busi­ness­es and donors, Sue's con­tri­bu­tions would be impos­si­ble to over­look. The cheer­ing sec­tion at her table includ­ed New Jer­sey friends Bet­ty Brown and Sue Brodzin­s­ki, whose vis­it to Schoharie Coun­ty could not have been better-timed.
Before the pre­sen­ta­tion of awards, the music of Mark Bap­tiste, orig­i­nal com­po­si­tions and cov­ers of famil­iar favorites, filled the room and deck beyond the open doors, and the aro­mas of home-cooked soups and savories drew every­one in. Mark vol­un­teered his time and music, one more gift that Lan­dis appreciates.
Look­ing back at the Arboretum's ori­gins, His­to­ri­an and Board mem­ber Lee Lat­timer read a pas­sage from an unpub­lished and unedit­ed man­u­script by Lan­dis founder Fred Lape. In a reveal­ing account of his time in Esper­ance sur­round­ed by a stream of guests, sea­son­al work­ers, and a clutch of dear and tal­ent­ed friends, Lape paint­ed a vivid pic­ture of life's youth­ful dreams and lessons yet to be learned.
Jim and Fred intro­duced each Board mem­ber, and iden­ti­fied the high­lights of some of their work at Lan­dis. They wel­comed new Board mem­bers Chan­dra Burkhart, Amy Howan­sky, and George Steele. They also rec­og­nized some of the many peo­ple who serve in oth­er capac­i­ties, all invalu­able to the Arbore­tum, such as Vol­un­teer Coor­di­na­tor Anne Don­nel­ly, Board Advi­sor and for­mer Trustee Gail Brown­ing, and Full Moon Music Series direc­tor Jim Miller.
Thank you Lan­dis vol­un­teers! We couldn't do this with­out you.
---
---