As we look back at September's Vol­un­teer Appre­ci­a­tion Event (see ​"Lan­dis Thanks Vol­un­teers, Hon­ors Nan Williams and Sue Tri­cario", in this newslet­ter), we are remind­ed that the Arboretum's foot­print extends far beyond its grounds on Lape Road. Year-round, Lan­dis staff and vol­un­teers serve as ambas­sadors for the Arbore­tum at com­mu­ni­ty events through­out the Greater Cap­i­tal Region.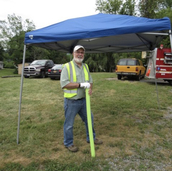 One local – very local – exam­ple of this ser­vice is with­in the vil­lage of Esper­ance, which cel­e­brat­ed its bicen­ten­ni­al in July. Exec­u­tive Direc­tor Fred Breglia rep­re­sent­ed Lan­dis on the plan­ning com­mit­tee, and our vol­un­teers Shawn Bevins and Gus Pol­li pro­vid­ed train­ing and coor­di­nat­ed the event's park­ing logis­tics. They were assist­ed at the des­ig­nat­ed lots by Lan­dis vol­un­teers Lee Lat­timer, sis­ters Yvaine and Yva-Marie Scheid, and Louise Pol­li. We think Fred Lape would have been pleased to see the vil­lage and its neigh­bor up the road, Lan­dis Arbore­tum, work­ing togeth­er. It was Fred Lape, our founder, who also served as the first cura­tor of the Esper­ance His­tor­i­cal Muse­um when it opened in 1970.
The Arboretum's com­mu­ni­ty pres­ence con­tin­ues to grow to this day. You can find Lan­dis vol­un­teers greet­ing and serv­ing the pub­lic at a large and diverse selec­tion of events such as the New York Pow­er Authority's Snowfest, the Cap­i­tal Dis­trict Gar­den and Flower Show, SUNY Cobleskill's Wildlife Fes­ti­val and Earth Day Lec­ture, Mabee Farm's Canal Fest, Schoharie Crossing's Canal Days, Sharon Spring's Har­vest Fes­ti­val, and the Old Stone Fort's His­to­ry Fair. In fact, between on-site Arbore­tum activ­i­ties such as our sig­na­ture Plant Sales and pop­u­lar musi­cal events and the com­mu­ni­ty-based events list­ed above, Lan­dis vol­un­teers have already pro­vid­ed more than 2,100 hours of ser­vice this past year alone.
And we think Fred Lape would have been proud.
---
---