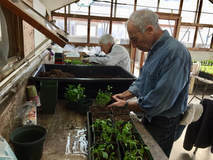 Vin­cent DeSan­tis final­ly got to the Arbore­tum this year – with a lit­tle help from his friends, as the Bea­t­les sang.
Sev­er­al years ago, Vince was Gloversville City Court judge, and a friend on the City Coun­cil told him about an arbore­tum in Esper­ance. Vince put it on the list. Anoth­er friend told him about the plant sales. A vis­it moved up on the list. Final­ly, still anoth­er friend per­suad­ed him to come with him ear­ly this past spring and work in the prop­a­ga­tion room. He agreed. He spent a few hours trans­plant­i­ng seedlings in the com­pa­ny of a few oth­er vol­un­teers. He signed up for mem­ber­ship that same day.
What most impressed him, he said, was the ​"incred­i­ble ambi­tion" of those vol­un­teers and their ​"ded­i­ca­tion to a cause." That expe­ri­ence was rein­forced lat­er in the spring when he vol­un­teered to help set up for the plant sale. That day he encoun­tered ​"friend­ly peo­ple … with the same mind­set .… a belief in the idea of an arbore­tum and .… its huge poten­tial," all of which impressed him and con­vinced him that the Arbore­tum was well worth a vis­it – and much more.
He was always inter­est­ed in gar­den­ing. Some of his ear­li­est mem­o­ries are of his grandmother's back­yard veg­etable gar­den. As a child, he said, he felt that ​"there was some­thing almost ​'super­nat­ur­al,' almost a mir­a­cle" in the nat­ur­al cycle. The feel­ing that ​"that seed holds the promise of life" awed him as a child and, he admits, nev­er real­ly left him, nor has that sense of our human respon­si­bil­i­ty in ​"nur­tur­ing liv­ing things."
Vince took a lead­ing role in estab­lish­ing Gloversville's first com­mu­ni­ty gar­den in 2010, work­ing with the Gloversville Hous­ing and Neigh­bor­hood Improve­ment Corps (GHNIC).
While Vince was still in high school, the Kennedy pres­i­den­cy instilled in him the ideals of pub­lic ser­vice. After study­ing the lib­er­al arts at CW Post Col­lege, he entered law school at St. John's Uni­ver­si­ty. His law stud­ies were inter­rupt­ed by the draft, and he spent two years sta­tioned with the army in Ger­many. He com­plet­ed his law degree, and prac­ticed law in Gloversville, also serv­ing as an assis­tant dis­trict attor­ney, until he was elect­ed city court judge in 1993, a posi­tion from which he retired in 2012.
Then he spent the year work­ing on organ­ic farms in Italy and France through WWOOF (World Wide Oppor­tu­ni­ties on Organ­ic Farms).
Pub­lic ser­vice and nature are still high on Vince's agen­da. Besides his role in the com­mu­ni­ty gar­den, he is an active vol­un­teer at the Mohawk Har­vest Coop­er­a­tive Mar­ket, as well as the GHNIC. He was elect­ed to the Gloversville City Coun­cil in 2015.
His expe­ri­ence vol­un­teer­ing at the Arbore­tum showed him that ​"there is seri­ous work to be done [at Lan­dis] for peo­ple of all ages." He'll be back for oth­er events too.
And no doubt he will intro­duce oth­ers to the Arbore­tum. ​"For a pop­u­la­tion dis­con­nect­ed from nature," he said, Lan­dis offers them ​"an intro­duc­tion to the nat­ur­al world – in a hands-on, visu­al sense .… There is some­thing spir­i­tu­al, heal­ing, about being sur­round­ed by nature, but [at the Arbore­tum] there is an intel­lec­tu­al ele­ment besides."
Like many peo­ple, vis­it­ing Lan­dis was some­thing he always meant to do. Old friends brought him here. New friends will keep him here.
---
---