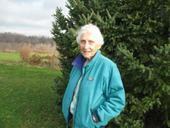 From her home in rur­al Mont­gomery Coun­ty, Flo­rence Grimm could see the Great Oak at the Arbore­tum. Although the oak is most­ly gone now, the Arbore­tum is still nev­er far from Florence's mind.
She read­i­ly admit­ted that she has ​"his­to­ry" with the Arbore­tum. She used to bring her daugh­ters there, and recalled that it was a won­der­ful place to take chil­dren and a pic­nic lunch – and she believes that it still is. She remem­bered when Fred Lape was still liv­ing in the Farm­house. She also rec­ol­lect­ed that, sad­ly, after Fred's death in 1985, the prop­er­ty and plant­i­ngs were neglect­ed and plagued by pil­fer­ing and vandalism.
Rec­og­niz­ing that Lan­dis was a unique trea­sure in jeop­ardy, Flo­rence and oth­ers worked to make the Arbore­tum a vital orga­ni­za­tion, with a Board of Trustees and sev­er­al func­tion­ing com­mit­tees. Flo­rence served two terms on the Board of Trustees. She also head­ed the Build­ing and Grounds Com­mit­tee, whose first order of busi­ness was to save the dete­ri­o­rat­ing Farm­house. It was plagued with water in the base­ment and rot­ting floor­boards and beams. In addi­tion to the recon­struc­tion, the committee's vol­un­teers paint­ed the build­ing and restored the shut­ters. ​"It was some­times hard not to be dis­cour­aged," she said. ​"It seemed just one obsta­cle after anoth­er." Flo­rence remem­bers that her com­mit­tee was blessed with sev­er­al ded­i­cat­ed mem­bers, includ­ing Dick Clowe, Jack Fritz, Ron Nea­dle, Gil O'Brien – and oth­ers. ​"We just clicked," she said.
Many vol­un­teers came to lend a hand. Chris Cash from SUNY Cobleskill worked to pro­tect Lape's rhodo­den­dron col­lec­tions from deer – ​"a mon­u­men­tal task." Herm Finkbein­er stepped up to help fund the restora­tion of the his­toric Barn. Some donat­ed their time to improve drainage and build bridges, while oth­ers per­form­ing com­mu­ni­ty ser­vice did their share.
Flo­rence was the recip­i­ent of the 2015 Great Oak Award in recog­ni­tion of her many years of tire­less ded­i­ca­tion to the Arbore­tum. She is still a reg­u­lar in the prop­a­ga­tion room, help­ing to pre­pare ​"Lan­dis Grown" plants for the Spring Plant Sale, and is known for her Ger­man pre­ci­sion. ​"It's just my back­ground: we raised every­thing and bought very lit­tle," she said.
But Florence's life encom­pass­es more than the Arbore­tum. She is an accom­plished weaver and a com­pet­i­tive swim­mer. She sews cos­tumes for two the­ater groups in Albany. She and her hus­band Bob hike and canoe and ski – ​"any­thing out­doors." She main­tains peren­ni­al and veg­etable gar­dens. Although she raised most of her family's food for many years, now, she said, she's dis­cov­ered the boun­ti­ful farm stands in Schoharie County.
As she and Bob walk the Arboretum's trails these days, she cher­ish­es all it has to offer: the Ed Miller Native Plant Trail; the rhodo­den­drons in bloom in the spring; the Meet­ing House view, espe­cial­ly at dusk when the deer come out of the woods; and the many trees she's ​"fall­en in love with."
The Arbore­tum is not all his­to­ry for Flo­rence. It's very much a liv­ing pres­ence in her life: ​"No words can express how beau­ti­ful it is."
---
---