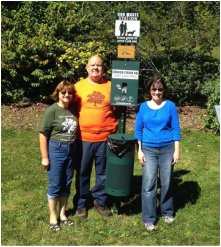 The Lan­dis Arbore­tum offers a year-round menu of fam­i­ly-friend­ly activ­i­ties, includ­ing edu­ca­tion­al and recre­ation­al pro­grams focused on every aspect of the great outdoors.
In addi­tion to orga­nized pro­grams, the Arbore­tum pro­vides anoth­er type of learn­ing lab, a place to go any day, any sea­son, to expe­ri­ence the won­ders of nature first-hand. These include the sights, smells and sounds along the ponds and in the mead­ows and forests. And who does­n't enjoy a pic­nic with the feel of the sun on your face? There are hik­ing trails, old growth forests, bog gar­dens, col­lec­tions of trees and native plants, peren­ni­al gar­dens, ponds, and vis­tas, all here for the long-time mem­ber or first-time vis­i­tor, includ­ing fam­i­lies with kids — and dogs.
Lan­dis has always wel­comed well-behaved, leashed dogs and ​"their peo­ple". With the excep­tion of just a few times a year (plant sales and the 5K races), you can bring your dog for a short romp or a long walk on our trails. Most vis­i­tors observe the rules of cour­tesy, prompt­ly pick­ing up their dog's waste and tak­ing it with them when they leave the grounds. But a few have failed to do so. The staff has noticed an increase in dog waste left on the grounds, often in fre­quent­ly vis­it­ed areas such as the Van Love­land Gardens.
We'd like to take this oppor­tu­ni­ty to remind you to think of oth­ers and be sure to clean up after your pets when you vis­it Lan­dis, so that dogs can con­tin­ue to enjoy the Arbore­tum as much as their two-legged fam­i­ly mem­bers. To make it more con­ve­nient for you to do so, we have installed two pet waste sta­tions on the grounds, one near the entrance and one by the Meet­ing House. If you've for­got­ten to bring your own waste bags, feel free to use one from the pet station.
The pet sta­tions were gen­er­ous­ly donat­ed by Nan­cy Stueb­n­er, Lan­dis Office Man­ag­er, in mem­o­ry of my moth­er, Lan­dis vol­un­teer Josephine Micil­lo. Both dog lovers, they always thought of the Arbore­tum as a place for the whole fam­i­ly, includ­ing those fur­ry kids with four legs and a tail.
In addi­tion to the pet waste sta­tions, dona­tions by the Pol­li fam­i­ly and oth­ers in Josephine Micil­lo's name made pos­si­ble the addi­tion of a gar­den cart for plant sales. Look for the cart with the memo­r­i­al plaque the next time you vis­it the sale.
---
---