Dr. Russ Newkirk finds his great­est joy in being of ser­vice to others.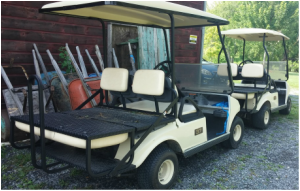 That inten­tion was what led him into the prac­tice of med­i­cine. Russ retired a few years ago from St. Peter's Hos­pi­tal, where he spent 43 years, begin­ning as a 19-year-old draw­ing blood dur­ing sum­mer vaca­tions and then as a med­ical doc­tor, serv­ing 23 years as chief of pathol­o­gy and lab­o­ra­to­ry med­i­cine. Russ believes in the pow­er of con­nec­tion when it comes to the prac­tice of med­i­cine. He some­times regrets that the field has become much more effi­cient in the deliv­ery of poten­tial inter­ven­tions, but pos­si­bly less wise in its insis­tence on extend­ing life for days or weeks at the loss of qual­i­ty of life. He con­tin­ues to share his wealth of knowl­edge through con­sul­ta­tions, and per­haps most mean­ing­ful­ly to him, through med­ical mis­sions to Haiti, where peo­ple strug­gle to man­age lifestyle-depen­dent dis­eases like hypertension.
Russ' pas­sions don't end there though. He is also an ama­teur astronomer: show him a dark sky (like the ones at Lan­dis), and he can read it like a book. Russ also knows the val­ue — and the joy — of phys­i­cal exer­tion. He loves to golf, and he has run the Boston Marathon as well as a num­ber of 10Ks and mini-marathons. But pushed to make a choice among his ath­let­ic pur­suits, he'd choose ice hock­ey in a heart­beat. Russ is in a hock­ey league in the Cap­i­tal Region and prac­tices a cou­ple of times a week when the rinks are iced.
Russ dis­cov­ered Lan­dis Arbore­tum through Board Pres­i­dent Jim Paley. Russ and Jim became friends in the fourth grade and have remained close ever since. Russ likes to make Jim's vaca­tion home in Thai­land a win­ter stop in his per­am­bu­la­tions around the globe. (Trav­el is anoth­er pas­sion.) His dis­cus­sions with Jim about find­ing ways to extend access to Lan­dis for peo­ple with lim­it­ed mobil­i­ty con­vinced him to donate a golf cart to the Arbore­tum. Since then, he has giv­en a sec­ond golf cart, which has not only allowed more access for some Arbore­tum vis­i­tors, but also has made it pos­si­ble for Native Plant Trail Cura­tor Ed Miller, now in his 90s, to tend and expand his Trail with less exertion.
A for­tu­nate friend­ship, then, between Jim Paley and Russ Newkirk, and oth­ers have ben­e­fit­ed from their mutu­al ded­i­ca­tion to Landis.
---
---