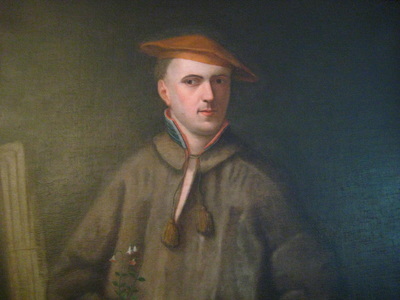 You could say he's the father of all gar­den­ers — all mod­ern gar­den­ers, any­way. Karl Linne (or Car­o­lus Lin­naeus, to use the Latin form of his name, which he pre­ferred) had a gar­den with thou­sands of species of plants in it. And he named every one of them himself.
His life's ambi­tion, in fact, was to name every liv­ing thing on earth. If he didn't quite suc­ceed, it wasn't for lack of try­ing. He named approx­i­mate­ly 15,000 liv­ing organ­isms. Homo sapi­ens. Can­is famil­iaris. Apis mel­lif­era. In the ear­ly 1700s, the young Lin­naeus came up with the idea that all liv­ing things should have only two names, in Latin (a lan­guage all edu­cat­ed peo­ple would have no trou­ble under­stand­ing, he thought). This was a rev­o­lu­tion­ary idea, using only two words instead of the ten or twelve-word names for plants and ani­mals that were com­mon at the time.
To this day, gar­den­ers use the names he chose. Often, he named par­tic­u­lar­ly beau­ti­ful plants after friends or peo­ple he admired. Rud­beck­ia, for exam­ple, more com­mon­ly known as Black-eyed Susan. Lin­naeus was so impressed by the beau­ty of this Amer­i­can flower, sent to him by a col­lec­tor, that he gave it the name of his men­tor and beloved pro­fes­sor, Olaf Rudbeck.
I've just been vis­it­ing Linnaeus's gar­den in Upp­sala, Swe­den, and I felt right at home. I rec­og­nized many famil­iar plants. Plan­ta­go major, also known as com­mon plan­tain, the ubiq­ui­tous lawn weed. There it was, care­ful­ly plant­ed and labelled in the gar­den. Zea mays. Or, to use its com­mon name, corn. Solanum tubero­sum, or pota­toes. In Linnaeus's day, these plants were prized spec­i­mens, val­ued for their use as food or med­i­cine. The gar­den was pro­tect­ed by a low but dense hedge – passers-by could admire the plants from a dis­tance, but couldn't steal any of them.
By far the most flam­boy­ant part of Linnaeus's gar­den was the sec­tion devot­ed to Amer­i­can plants. ​"We are grate­ful" Lin­naeus wrote, ​"to the soil of Vir­ginia." (Amer­i­ca was some­times referred to as Vir­ginia). Care­ful­ly arranged in neat plots were lux­u­ri­ant growths of rare New World spec­i­mens, excit­ing exotics in Linnaeus's time: Black-eyed Susans. Poke­weed. New Eng­land aster. Joe-Pye weed. And espe­cial­ly gor­geous, sev­er­al species of tall and ele­gant gold­en­rod. (Which, as Lin­naeus knew, does not cause hay fever, as the pollen is not wind­borne, but car­ried by bees.)
Lin­naeus used all these plants to teach thou­sands of enthu­si­as­tic stu­dents about the won­ders of botany and his own new sys­tem of nam­ing and clas­si­fy­ing plants. He called the gar­den his ​"liv­ing text­book." Lin­naeus lived for thir­ty-five years in a cozy lit­tle house in a cor­ner of the gar­den, where he raised five chil­dren as well as thou­sands of species of plants. He had pets in the gar­den, too: mon­keys, par­rots, and a strange ani­mal from Amer­i­ca, called a ​"rac­coun." There was a glassed-in green­house for trop­i­cal plants, but the hardy Amer­i­cans could with­stand even Swedish win­ters. ​"In my gar­den," Lin­naeus wrote, ​"I live hap­py as a king."
Next time you walk the Arbore­tum trails, take a moment to appre­ci­ate the gold­en­rod, asters and black-eyed Susans – com­mon as mud to us, but rare import­ed spec­i­mens cher­ished by the ​"Prince of Botanists" (Linnaeus's descrip­tion of himself.)
---
---