In 2007 and 2008, Anne was trained and par­tic­i­pat­ed in the NYS Drag­on­fly and Dam­selfly Sur­vey, which doc­u­ment­ed the dis­tri­b­u­tion of all Odona­ta species in NY. These data in turn were to be used in the devel­op­ment of the Com­pre­hen­sive Wildlife Con­ser­va­tion Strat­e­gy for New York State.
After her retire­ment in 2006, Anne began vol­un­teer­ing at the Lan­dis Arbore­tum. Through­out her tenure as a vol­un­teer, Anne has worked pret­ty much every job at the Arb at one time or anoth­er. Now, she coor­di­nates the vol­un­teers. Anne start­ed giv­ing class­es in 2009.
"I love teach­ing and the Arbore­tum," Anne said.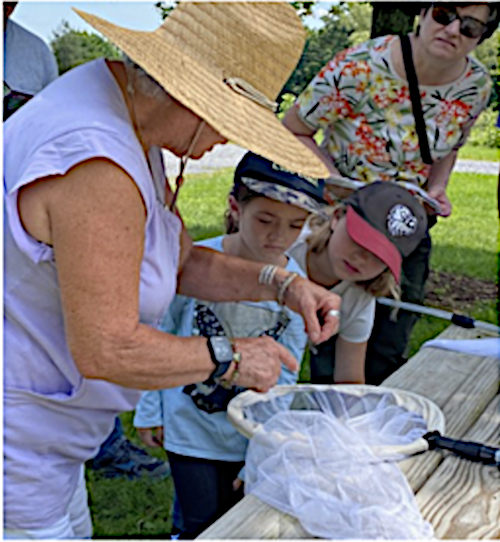 Dur­ing the class, which takes place every sum­mer, par­tic­i­pants received a dia­gram which aid­ed in iden­ti­fy­ing the dif­fer­ence between a drag­on­fly and dam­selfly.​Anne also had books that were handy for iden­ti­fi­ca­tion. She explained that although both insects are of the tax­o­nom­ic order Odona­ta, dif­fer­ences — such as how they hold their wings at rest — can help you dis­tin­guish them. Drag­on­flies hold their wings hor­i­zon­tal­ly, per­pen­dic­u­lar to their body, while dam­selflies wings are held along their body at rest.
"Go to the pond, stand very still, and get your eyes used to it," Anne told the group as they anx­ious­ly await­ed mak­ing their first catch.
Sis­ters Mil­lie and Ken­si Brown­ing were expe­ri­enced at catch­ing insects. Their nets quick­ly swooped between the cat­tails that lined the pond.
Lau­rel Tormey of Alta­mont caught a dam­selfly that Anne was able to iden­ti­fy as a blue-front­ed dancer.
"I've been want­i­ng to learn about drag­on­flies. I've tried on my own, but then I decid­ed to come here," Lau­rel said.
Anne sat on a pic­nic table as par­tic­i­pants brought their catch­es over for her to help iden­ti­fy. After catch­ing and releas­ing many drag­on­flies and dam­selflies, the group walked over to explore a new loca­tion — the Wil­low Pond.
The class brought Aman­da Wyck­off and her fam­i­ly of East Berne to the Arbore­tum for the first time.
"My moth­er said ​'let's go'. We've nev­er went to some­thing like this before," Aman­da said.
Sandy Tasse also brought her kids to the class. Ayr­ton and Miran­da Tasse could be seen stand­ing near the edge of the pond, intent­ly watch­ing their sur­round­ings to make their next catch.
"We came two years ago because my daugh­ter real­ly likes bugs, so we drove an hour here to come back," Sandy said.
Par­tic­i­pants spent approx­i­mate­ly two hours catch­ing and learn­ing about drag­on­flies and dam­selflies. By the end of the class, the same chil­dren who were qui­et strangers before the event could be seen frol­ick­ing with new friends, nets in hand.
"I've done sev­er­al class­es, but this is my favorite," Anne said. ​"Espe­cial­ly if I get kids to participate!"
---
---