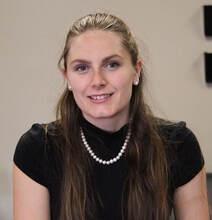 It was in the fall of 2019 that she and Sam made their first vis­it. Mor­gan remem­bers lin­ger­ing by the weep­ing wil­low at a pond and find­ing ​"a sense of peace there." ​"I got lost for a while, caught up in the moment, notic­ing the sur­round­ings," she recalled. Espe­cial­ly dur­ing COVID, the Arbore­tum became ​"a place of refuge" for the two of them.
The cou­ple ​"played tag" with a pair of barred owls at dusk along the Bass Trail.
They lin­gered at the pond near the Great Oak, watch­ing tur­tles lined up and sun­bathing on a log.
They spot­ted an ori­ole and a scar­let tan­ag­er in the Conifer Collection.
She and Sam vol­un­teered at the Spring Plant Sale the fol­low­ing year. And she dis­cov­ered a sense of pur­pose. Vol­un­teer­ing at Lan­dis ​"is some­thing I could care about, be pas­sion­ate about .… . it helps keep the place alive; it sus­tains it for future gen­er­a­tions." Mor­gan also found a com­mu­ni­ty: ​"It was excit­ing to real­ize that I have some­thing in com­mon with oth­ers .… it was a breath of fresh air. I thought, these are my peo­ple," she said.
Lat­er in 2020, she joined the Com­mu­ni­ca­tions Com­mit­tee, which is the pub­lic face of the Arbore­tum, respon­si­ble for its print­ed and online pres­ence, includ­ing the quar­ter­ly newslet­ter. Mor­gan earned a degree in jour­nal­ism from SUNY Albany. Hav­ing worked as a reporter for both Gloversville's Leader-Her­ald and Amsterdam's Recorder, she was con­fi­dent that she could share her skills with the com­mit­tee, as well as those she honed in her cur­rent posi­tion for Mont­gomery Coun­ty. She said that she hopes to bring new ideas to the com­mit­tee and ben­e­fit from oth­er mem­bers' experience.
Her research for an arti­cle on one of the Arboretum's nature work­shops ("Drag­on­flies and Dam­selflies" in this issue), revealed yet anoth­er aspect of the Arbore­tum, she said. She wit­nessed peo­ple in ages rang­ing from six to 60 on equal ground, learn­ing by hav­ing fun togeth­er." Lan­dis is replete with ​"learn­ing oppor­tu­ni­ties, some­thing to appeal to every­one, from bee­keep­ing to birds" and beyond.
Mor­gan grew up with her moth­er and grand­moth­er nur­tur­ing gar­dens, and over the years her inter­est in gar­den­ing grew. Meet­ing Sam (a self-described ​"plant geek"), she said, taught her a lot about plants and gave her con­fi­dence in grow­ing them. She and Sam recent­ly pur­chased a new home with a 2‑acre lot, and already their plans include a green­house, prun­ing the neglect­ed apple trees, grow­ing herbs for craft­ing and shar­ing, and plant­i­ng a gar­den fea­tur­ing ​"pass along plants." They've already moved dozens of house­plants into their new home.
Mor­gan grew up in rur­al Mont­gomery Coun­ty. She and her hus­band now live close to her child­hood home. Nei­ther would have it any oth­er way. If it's been ​"love at first sight," it's also been, as most love affairs are, a voy­age of dis­cov­ery. And Lan­dis and the Lan­dis com­mu­ni­ty have been part of that journey.
---
---