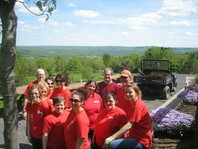 On May 25, as part of an annu­al ​"Neigh­bors Make a Dif­fer­ence Day," a Key­Bank team worked on land­scap­ing at the Meet­ing House and weed­ing the peony gar­den. One team mem­ber said, ​"It was a great day yes­ter­day. We're a lit­tle sore today, but I am grate­ful we got to vol­un­teer at such a worth­while orga­ni­za­tion on such a beau­ti­ful day!"
The team includ­ed John Adair, Kim­ber­li Adam­chick, Karen Black­wood, Chanell, Clare Echevar­ria, John­na Fritzen, Neal Goodyear, Bre­anne Hayes, Judith Kaplowitz, Greg Ket­tell, Rebec­ca Sweet, Esther Thorn­ton, and Karie Zierak.
This is the sec­ond in an occa­sion­al series of notices that express our grat­i­tude to some of the ​"unsung heroes" who work behind the scenes to make the Arbore­tum what it is today.
---
---