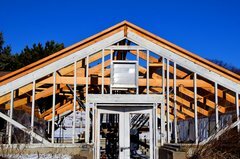 The Arboretum's green­house, famil­iar to Arbore­tum plant sale patrons as a source of ​"Lan­dis Grown" plants, is cur­rent­ly under­go­ing an exten­sive ren­o­va­tion, thanks to the efforts of Arbore­tum sup­port­ers Jim Mur­phy, Steve Per­og, and Jeff Schworm, along with those of Lan­dis Board Pres­i­dent Jim Paley and Exec­u­tive Direc­tor Fred Breglia.
Jeff Schworm cal­cu­lat­ed the engi­neer­ing require­ments with respect to design and mate­ri­als. Jim Mur­phy and Steve Per­og spent sev­er­al days dis­man­tling the old struc­ture and build­ing the new supports.
Jim Paley nego­ti­at­ed the pur­chase of durable larch beams, milled at a local Amish saw mill, as well as the poly­car­bon­ate pan­els that will be installed this spring. Addi­tion­al stone will be poured to lev­el the floor.
The library/​herbarium was com­plet­ed in 1982. The green­house facil­i­ties were con­struct­ed in 1989 and 1990 in part through a gen­er­ous dona­tion of m
---
---