Ah, spring! The time of birds singing, wild­flow­ers bloom­ing … and mud puddles.
I used to think of mud pud­dles as the price we pay for warmer weath­er. Wet shoes and mud­dy boots seem a small mat­ter, as long as warm sun­shine comes along with them. Pud­dles are fun for kids to splash in, but what else could a mud pud­dle pos­si­bly be good for?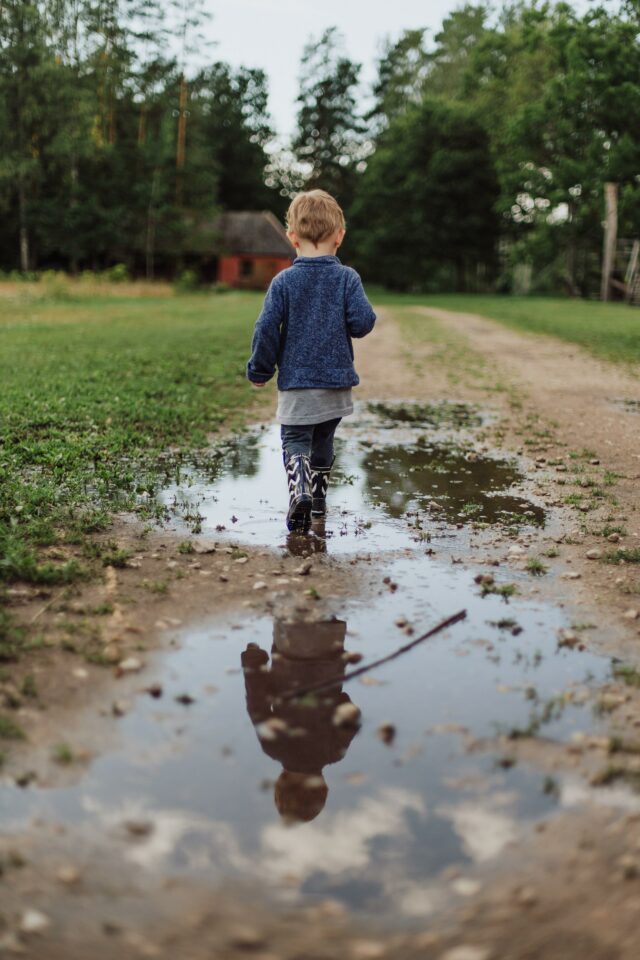 One day I hap­pened to notice a pud­dle on the edge of a dirt road. The water of the pud­dle appeared to be mov­ing in some strange way, with rip­pling wavelets like a minia­ture ocean. On clos­er inspec­tion I dis­cov­ered it was filled with wrig­gling black tad­poles, each about half-inch long. And hop­ping around the mar­gins of the pud­dle were hordes of lit­tle toads, so tiny you could fit sev­er­al of them on a quarter.
Toads lay eggs in shal­low pools, and the result­ing tad­poles zip through the process of meta­mor­pho­sis. The jour­ney from egg to adult can take some species of frogs two years, but toads do it all in about 30 days. The toads have no time to waste: they have to get a move on before their pud­dle dries up and leaves them high and dry.
I start­ed won­der­ing what else pud­dles were good for. Turns out pud­dles have all sorts of uses. They're a swim­ming pool, bath­tub, drink­ing foun­tain, and hard­ware store for dozens of species of animals.
On a hot sum­mer day, birds dive into a pud­dle like kids play­ing around in the neigh­bor­hood pool. Do wild ani­mals ever just kick back and have a lit­tle fun? Sure­ly a robin splish­ing and splash­ing in a pud­dle seems to be enjoy­ing life. But of course all that wash­ing and sluic­ing of the feath­ers isn't just friv­o­li­ty. Birds need to bathe their feath­ers often to keep them in peak fly­ing condition.
Pud­dles are also a cru­cial source of home build­ing mate­ri­als for dozens of species. Mud dauber wasps roll the mud into balls, car­ry­ing it in their front legs. They then attach it to a rock or wall to craft a shel­ter for their young. Some types of mud daubers cre­ate del­i­cate struc­tures that look like minia­ture pipe organs; oth­ers just form a clump. But no mat­ter what the nest shape, the mud pro­vides a cool, safe home for their eggs.
I love to watch barn swal­lows dart and soar high over the Arbore­tum. These beau­ti­ful acro­bats seem to be crea­tures of the sky, but they're com­plete­ly depen­dent on mud. They flit to pud­dles, grab a beakful of mud, and make a nest glued to the rafters of barns and sheds. If there's no mud, there'll be no baby barn swal­lows. Lack of a read­i­ly avail­able source of mud for nest build­ing is direct­ly linked to declines in barn swal­low populations.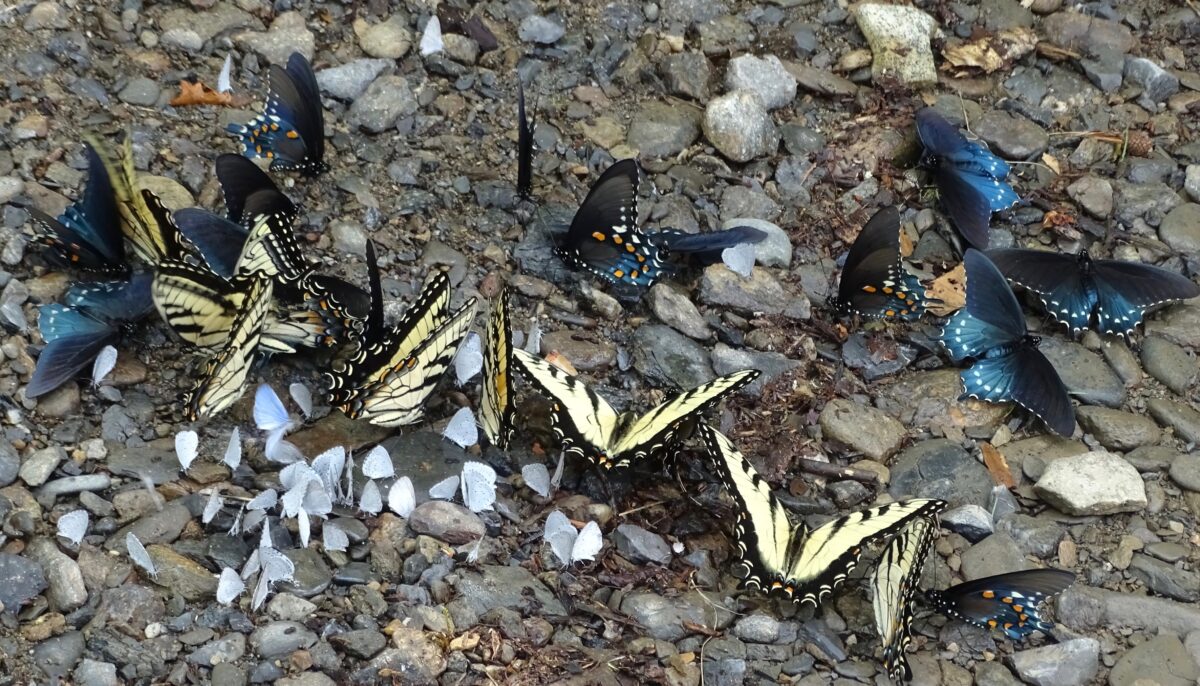 Even but­ter­flies love pud­dles. They engage in a behav­ior called ​"pud­dling." I love that ​"pud­dle" can be a verb, as in ​"I feel like pud­dling today!" When but­ter­flies pud­dle, they land at the shal­low edges of pud­dles and rest there, slow­ly fan­ning their wings. They sip water and feed on the min­er­als found in the damp earth.
Not every pud­dle is but­ter­fly or toad-friend­ly, though. A pud­dle in a black­top dri­ve­way, with a rain­bow of oil on the water or full of leaked con­t­a­m­i­nants from cars, is no place for ani­mals to drink or kids to splash in.
So don't be ashamed of the mud pud­dles in your yard. Own them with pride! You're host­ing wildlife habi­tat. These days I'm much more tol­er­ant of mud­dy dri­ve­ways and sog­gy lawns. The Lan­dis Arbore­tum is one of the few pub­lic places around that is pud­dle-friend­ly: dirt roads and barn­yards are rare these days.
Have a love­ly spring, and enjoy the mud!
---
---