As I remem­ber, the fern glen wasn't planned. Ed Miller was a great plan­ner and did a fine job lay­ing out the Native Plant Trail. Then a Spur Trail was added, going through the wet­land and up the hill, includ­ing a bridge over a small stream. In lat­er years Ed and I were hik­ing on the Driscoll Pre­serve when we came upon a musi­cal bridge. I could see the wheels spin­ning as Ed, always the plan­ner, took mea­sure­ments. And voilà, there was a musi­cal bridge on the Spur Trail! Ed, true to form, had to improve on the Dan Driscoll design by adding flats and sharps, per­haps the first musi­cal bridge with black keys.
I don't know the date or the cir­cum­stances, but ear­ly on Ed was giv­en two rare male ferns. He plant­ed them on the hill of the Spur Trail and then they were for­got­ten. One day as we were walk­ing up the trail, we looked over and saw a lit­tle stone wall with a few res­i­dent ferns. We decid­ed that it would make an intrigu­ing lit­tle grot­to to add inter­est to the trail. The next time I came, it was with a load of ferns for the area near the pond's out­let. Very nice! But I guess we didn't men­tion it to any­one else.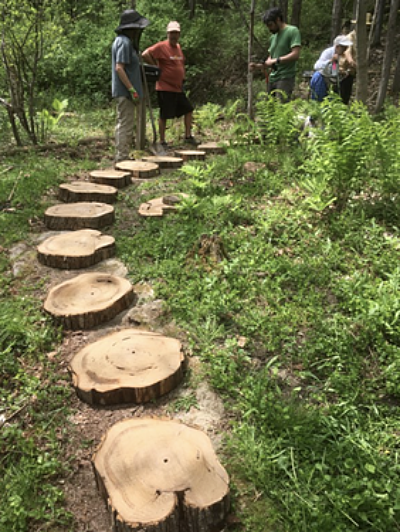 I believe it was plant­ed in the fall, and we didn't vis­it until lat­er the fol­low­ing spring. To our great dis­may and dis­ap­point­ment, some work had been done on the pond and, in addi­tion to felling a huge tree,t he con­struc­tion debris had all been bull­dozed over the bank onto our lit­tle grot­to. So be it, we thought. For the next few years Ed con­cen­trat­ed on the main col­lec­tion of native trees and shrubs.
One day, about 2014, as we were walk­ing up the Spur Trail, the sun shone behind the large ferns. We couldn't help but be impressed. The Fern Glen was born at that moment. I start­ed bring­ing ferns from my farm in Mass­a­chu­setts, and Nick Zabawsky gave us many from his prop­er­ty. Ed start­ed out with a mat­tock to plant the first ones: the clay soil is hard and rocky. Lat­er my two sons, Rick and Rob, came with loads of ferns and plant­ed them over the hill­side. Ed found a rare walk­ing fern and plant­ed it on a rock and fed it lime, though it was not always hap­py. For­tu­nate­ly, Nick Miller has now pro­vid­ed a replacement.
We aimed to cre­ate a Fern Glen, with at least one of each fern native to the area, all marked using signs obtained from a grant. The Glen now has a base of thir­ty vari­eties, some thriv­ing — and some not. They don't all like the same kind of soil, but we tried to com­pen­sate with an appli­ca­tion of lime where need­ed. Since the area includes dif­fer­ent habi­tats (the hill­side is dry, and the base is wet), the ferns are arranged accordingly.
Nick Miller, who inher­it­ed the cura­tor­ship of the Native Plant Col­lec­tion, has done a lot of work cre­at­ing rock steps on the hill­side and cut­ting brush. Broth­er Nel­son has done back­hoe work to divert the pond over­flow away from the hill­side that was inun­dat­ed after a heavy rain­storm. Nick is work­ing on solv­ing the prob­lem of the mud­dy trail at the bot­tom using tree rounds for steps. It looks great and is very appro­pri­ate for the site.
I hope to bring a few more ferns to have a good spec­i­men of each of the thir­ty vari­eties. As with any oth­er gar­den, the col­lec­tion needs weed­ing, mow­ing, and clean-up. Anne Don­nel­ly has joined me in the up-keep, espe­cial­ly in spring and fall. As I retire from every­thing except enthu­si­asm, I will con­tin­ue to main­tain this peace­ful place. Please con­tact the Arbore­tum if you would like to join me in pre­serv­ing this grace­ful glen. After all, ferns can be part of your plan too!
---
---