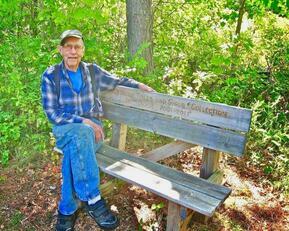 If you take a stroll around the Wil­low Pond Trail to view The Miller Native Plant col­lec­tion, you will feel the pres­ence of Ed Miller at every turn. Twen­ty years after its inau­gu­ra­tion in 2001, much of Ed's vision has been realized.
If you didn't know Ed, you might be sur­prised that a man well into his 7th decade would embark on such an ambi­tious, even auda­cious, project. If you had the plea­sure of know­ing him, you wouldn't be sur­prised in the least. Dad — I'm the youngest of his four sons — loved the out­doors even from his Depres­sion-era grow­ing up in Schenectady.
I have trea­sured pho­tos of him hik­ing (in street shoes) in the Adiron­dacks as a 14-year-old Boy Scout and, lat­er, fresh­ly dis­charged from his WWII Navy ser­vice, hik­ing the Northville-Placid trail with my uncle. His love of nature, of kids, and of teach­ing led him to scout-mas­ter­ing, expand­ing our pack of four boys to count­less many more. He could take small armies of boys (and often girls – he was ahead of his time in that regard, occa­sion­al­ly dri­ving the BSA brass crazy) into the woods. He could name every wood­land plant one might find, knowl­edge which he would gen­tly impart to all around him. He took end­less 35mm Ektachrome slides of wood­land flow­ers (which we still have).

In those days, while he loved his wood­lore, he eschewed more for­mal botan­i­cal prac­tice, most­ly ignor­ing tax­on­o­my and Latin nomen­cla­ture. But after he retired in 1983 from an illus­tri­ous four-decade career at GE as a world-rec­og­nized pio­neer in steam tur­bine engi­neer­ing and design – a sto­ry for anoth­er day — his botan­i­cal curios­i­ty was unleashed with­out bound. He trav­eled the coun­try and the world, always grav­i­tat­ing to peo­ple who loved nature, loved life, and shared his unfet­tered love of knowl­edge. Becom­ing active in the North Amer­i­can Botan­i­cal Soci­ety was some­thing like nat­u­ral­ist grad­u­ate school for him. He learned to love the sub­tleties of iden­ti­fi­ca­tion, appre­ci­at­ing the need for tax­on­o­my and Latin to achieve a pre­ci­sion not pos­si­ble with com­mon names. An inde­fati­ga­ble orga­niz­er, he host­ed Botan­i­cal Soci­ety meet­ings in the North­east on mul­ti­ple occa­sions. His asso­ci­a­tion with accom­plished botanists stirred his need to share his knowl­edge and was the fer­tile ground on which the seeds of the Native Plant Col­lec­tion were sown. At some lev­el, he felt that the native flo­ra of New York was under­ap­pre­ci­at­ed by, and rather under-rep­re­sent­ed to, the pub­lic. Exot­ic plants from the steppes of Asia, or the jun­gles of Bor­neo are great, but what about our own won­der­ful but often over­looked plants? Thus, the idea ger­mi­nat­ed of get­ting all New York State's native woody plants togeth­er so that peo­ple could learn about them.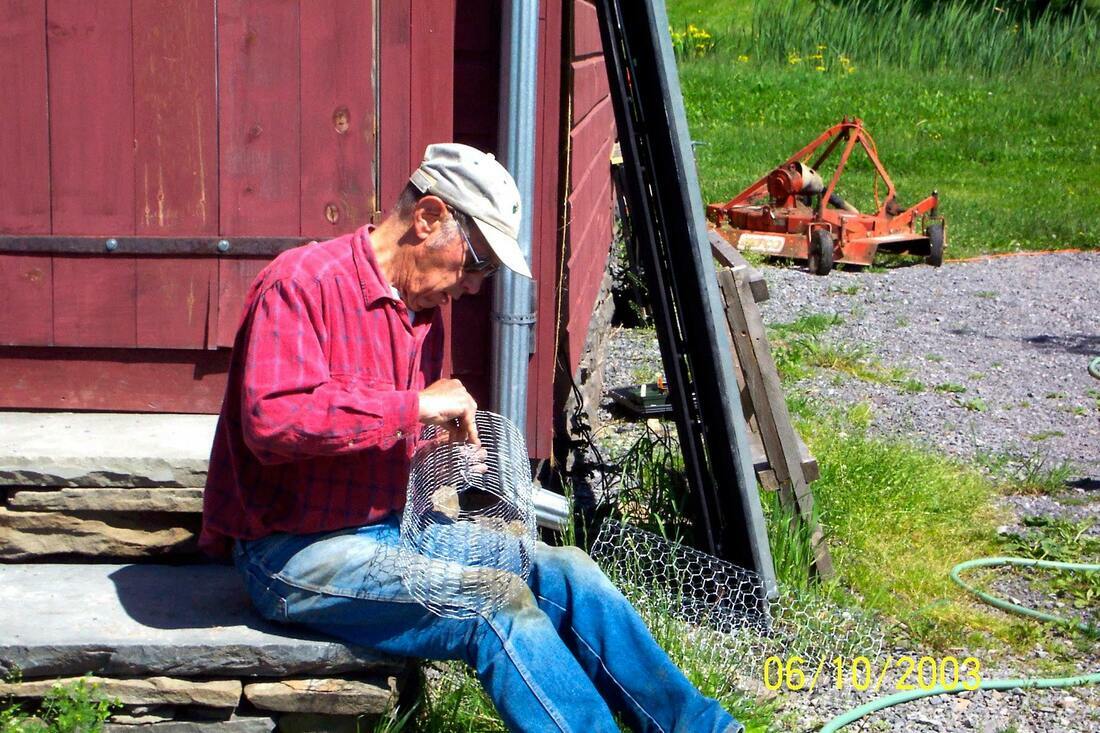 Build­ing the col­lec­tion took epic effort. We Miller Boys helped with the unfor­giv­ing mechan­i­cal aspects of cre­at­ing the trail itself. The relent­less Lan­dis clay, which drains mis­er­ably, sticks to your tools, boots, and tires, is inter­spersed with rocks and roots. Even today, after 20 years, drainage is a con­stant bat­tle. But it was Dad's end­less hours, toil­ing with saw, shov­el, pruner, mat­tock, water­ing can, and knife, all through his 80s and into his 90's, that allowed over 200 species to grow and, more often than not, flour­ish. Dad took such delight in suc­cess­es like the paw­paw, and the oaks, and the ros­es (who knew that fam­i­ly was so BIG??).

The bog gar­dens also reflect a par­tic­u­lar pas­sion. Dad loved the under­stat­ed and some­times exot­ic beau­ty of the unique ecosys­tem that is an Adiron­dack bog. But how to share with peo­ple who don't rel­ish slog­ging knee deep through black, bub­bling bogs in search of an orchid or a car­niv­o­rous sun­dew? The two bog gar­dens, which are present­ly being upgrad­ed to a sin­gle new one, our fourth ver­sion, are packed with inter­est­ing plants – includ­ing Lan­dis' only car­niv­o­rous plants. Anoth­er pas­sion, which Dad shared with dear friend Nan Williams, was ferns. Togeth­er, they cre­at­ed a col­lec­tion of every native fern that can tol­er­ate the local cli­mate. In the moist, shady dell below the Wil­low Pond along the Spur Trail, you will find well over 20 species, includ­ing delights like Goldie's fern and maid­en­hair fern.
Dad liked to say, ​"how opti­mistic for an old man to plant a tree"! His opti­mism and curios­i­ty live on in the Native Plant Col­lec­tion. Come enjoy it. Learn. Dad would want it that way.
Nick Miller is cur­rent­ly the hered­i­tary cura­tor and con­ser­va­tor of his father's Native Plant Trail at the George Lan­dis Arboretum.
Click Tap to view full size
---
---