They look like spat­ters of gray­ish-blue/­green paint stain­ing bark and stones: the dried-up, twist­ed forms of lichens. Once you start look­ing, you notice them every­where at the Arbore­tum — on rock walls, stumps, twigs and branches.
Lichens are two dis­tinct and unre­lat­ed organ­isms — a species of fun­gi and a species of algae — liv­ing togeth­er in a sym­bi­ot­ic rela­tion­ship. It's not that they hap­pen to be grow­ing in the same place — they actu­al­ly com­bine to form a whole new enti­ty. Like any good rela­tion­ship, it's a two-way street.
Through pho­to­syn­the­sis, the algae cre­ates food for both organ­isms, using sun, water, and air to make nour­ish­ing sug­ars. The fun­gus would starve with­out the algae's photosynthesis.
The flim­sy, mois­ture-lov­ing algae, how­ev­er, needs the sup­port and struc­ture of the fun­gus. The fun­gal cells sur­round the algae com­plete­ly — like an apple pie with the crust being the fun­gus, the fill­ing the algae. You can see the green gleam of the plant shin­ing through the thin fun­gus crust, espe­cial­ly after a rain.

Lichens cling to sur­faces with things that look like roots, called hold­fasts. Hold­fasts let the lichen adhere to the sur­faces, but aren't roots as they don't suck up nutri­ents or water.
There are thou­sands of lichen types, com­posed of var­i­ous com­bi­na­tions of algae and fun­gi with dif­fer­ent species occu­py­ing dif­fer­ent nich­es. For instance, a lichen that needs sun­light might grow on top of a branch, while one that prefers mois­ture and shade might grow on the under­side of the same branch. They can sur­vive in the most inhos­pitable habi­tats imag­in­able. They're a tiny touch of green in the Sahara – and the dom­i­nant veg­e­ta­tive species in the Antarc­tic. They grow on the stone heads at East­er Island and on the top of Mount Mar­cy. There's almost nowhere lichens don't grow — under the soil, on church steeples, even on the back of a slow-mov­ing tortoise.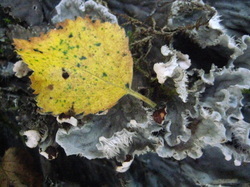 How­ev­er, there are areas that lichens can­not sur­vive due to their struc­ture. Most types of land plants have a waxy coat­ing called a cuti­cle on their leaves. This cov­er­ing func­tions like our skin, keep­ing mois­ture in and infec­tions out. Lichens don't have this pro­tec­tive lay­er per­mit­ting absorp­tion of every drop of mois­ture, a big advan­tage when liv­ing in arid loca­tions. Lichens are essen­tial­ly liv­ing blot­ters that soak up every­thing they come in con­tact with. Unfor­tu­nate­ly this per­me­abil­i­ty makes lichens high­ly sus­cep­ti­ble to air pol­lu­tion. Where smog and pol­lu­tants rise from cars and fac­to­ries, lichens van­ish. Sci­en­tists have been using this attribute as bio-mon­i­tors since the 1800s. Lichens are the prover­bial canary in the coal mine. Like the dead canary, the absence of lichens is a cry of warn­ing, mak­ing it nature's pol­lu­tion monitor.
Here at the Arbore­tum the air is sweet and clear. The lichens tell us so.
---
---