"I'm learn­ing all the time," Jeanne Post-Sour­mail said. ​"That's the glo­ry of the Arboretum."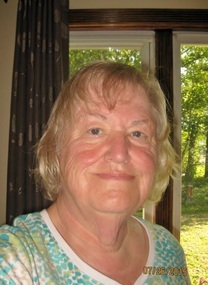 Learn­ing has always been cen­tral to Jeanne's life. In 2013, she retired from a 25-year career in the New York State Edu­ca­tion Depart­ment, where her respon­si­bil­i­ty was pri­mar­i­ly pro­fes­sion­al devel­op­ment for teach­ers in Cen­tral New York. Before that, Jean spent sev­er­al years in the ele­men­tary and mid­dle school class­room as a read­ing spe­cial­ist. After retire­ment, she agreed to main­tain the Lan­dis mem­ber­ship data­base and even­tu­al­ly agreed to chair the Mem­ber­ship Com­mit­tee. This year she begins her first term on the Arboretum's Board of Trustees.
Jeanne first vis­it­ed the Arbore­tum some 20 years ago, before she moved to her cur­rent home in rur­al Mont­gomery Coun­ty. As the moth­er of two boys, she was always on the look­out for out­door activ­i­ties and dis­cov­ered the Arboretum's trails. Over the years she became more involved in the plant sales. First she just attend­ed, then vol­un­teered as a cashier, which expand­ed to bring­ing seedlings of heir­loom veg­eta­bles to the sales and work­ing in the prop­a­ga­tion room and greenhouse.
Jeanne's been an organ­ic gar­den­er since the 60s and now tends near­ly a dozen raised beds of veg­eta­bles, whole­heart­ed­ly believ­ing in the val­ue of good healthy food. She also has a phi­los­o­phy of leav­ing the world a bet­ter place by tread­ing light­ly on the earth. Her cur­rent inter­est is incor­po­rat­ing bird- and pol­li­na­tor-friend­ly native plants into her land­scape, like plant­i­ng peren­ni­als to line the fam­i­ly pond and stream. Dis­count­ing the work, she said that gar­den­ing is good exer­cise. She added, ​"I real­ly enjoy being out­side in the ​'real world,' watch­ing things grow."
The prospect of learn­ing kept bring­ing Jeanne back to the Arbore­tum. ​"There are so many peo­ple who know so much," she said. She instanced one plant sale at which she expressed an inter­est in blue­ber­ries. Fred Breglia and Scott Trees told her ​"every­thing I need­ed to know about blue­ber­ries," includ­ing the intri­ca­cies of mon­i­tor­ing soil pH lev­el. Jeanne now cul­ti­vates a dozen bush­es. She is con­vinced that ​"peo­ple are [the Arboretum's] best adver­tise­ment .… They are so will­ing to share their expertise."
Jeanne encour­ages peo­ple to vis­it the Arbore­tum. She is sure that once acquaint­ed with all its won­ders, they will want to become a mem­ber to help sus­tain it. She called atten­tion to that aspect of life that we ​"miss sit­ting in hous­es." Chil­dren could learn so much from just being out­doors in nature. Adults might ​"learn to enjoy life at a dif­fer­ent level."
Some­one once said that teach­ing and learn­ing are one and the same. For Jeanne and for many oth­er life-long learn­ers, the Arbore­tum is their classroom.
---
---