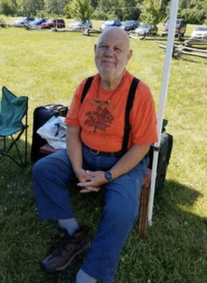 Gus Pol­li is hap­pi­est being out­doors and work­ing with his hands. Vol­un­teer­ing at the Arbore­tum, he acknowl­edged, is a good fit.
Gus and his wife Louise dis­cov­ered the Arbore­tum dur­ing a ride out in Schoharie Coun­ty, and start­ed vol­un­teer­ing short­ly after Louise retired. Gus demurred at pulling weeds but found that there were carts that need­ed repair, tires that need­ed chang­ing, machines that need­ed main­te­nance, all jobs that were much more to his liking.
As Louise became more involved, Gus did too: ​"I was shang­haied or con­script­ed, what­ev­er it was, but I woke up, and I was here." Over time, there were lights that were hung in the prop­a­ga­tion room, a leak­ing water line in the green­house fixed, brack­ets in the shed installed to orga­nize plant sale mate­ri­als – just a few of a myr­i­ad of tasks that ben­e­fit­ed from Gus' hand­i­work and mechan­i­cal apti­tude, his ​"stock in trade."
"He's always been a hands-on kind of guy," Louise says. Gus grew up on a farm, and his father main­tained that a farmer need­ed to be a ​"jack of all trades," a con­vic­tion that Gus still lives by. He still works the fam­i­ly farm, cul­ti­vat­ing about 15 acres of soy­beans and man­ag­ing a wood­lot. He also oper­ates a 3‑bay car wash in Grand Gorge.

Most of his pro­fes­sion­al life was spent in law enforce­ment. Gus served 33 years and retired as a Lieu­tenant with the New York State Uni­ver­si­ty Police. He was employed at sev­er­al cam­pus­es (includ­ing SUNY Cobleskill, where he met Louise, who was a res­i­dence direc­tor at the time), the NYS Depart­ment of Envi­ron­men­tal Con­ser­va­tion, and as an inves­ti­ga­tor for the NYS Edu­ca­tion Department's Office of Pro­fes­sion­al Discipline.

He's also a self-described ​"peo­ple per­son" – his police work taught him those skills. He found that the Arbore­tum offers an oppor­tu­ni­ty to meet and learn from ​"as diverse a group of peo­ple as you'll ever know." He added, ​"No mat­ter what inter­ests or skills you bring to the Arbore­tum, there is a place for you."
But it's not all work at Lan­dis, he point­ed out. There is the oppor­tu­ni­ty to be sur­round­ed by nature – and to learn about the nat­ur­al world. Gus sin­gled out George Steele's work­shop on the white-tailed deer and Anne Donnelly's on drag­on­flies as espe­cial­ly inter­est­ing. He hoped that more young peo­ple would dis­cov­er the Arbore­tum, and is encour­aged by the Arboretum's out­reach to fam­i­lies with chil­dren. To expe­ri­ence Lan­dis' dark skies and a Star Par­ty, host­ed by the Albany Area Ama­teur Astronomers, he said, would be some­thing that every child would remem­ber for the rest of his or her life. Lan­dis is open every day, all year long – and is a much short­er dri­ve from the Cap­i­tal Region than most peo­ple imag­ine, he point­ed out. ​"You don't even have to hike," Gus said. " Just sit on the deck and enjoy the view from the Meet­ing House. It's incred­i­ble at any time of year, espe­cial­ly sum­mer into fall."

Gus and Louise are often seen at area events pro­mot­ing the Arboretum's many attrac­tions. Vis­i­tors to Lan­dis may encounter Gus on a lad­der, direct­ing traf­fic at the plant sales, or under­neath a trac­tor. He stat­ed, ​"I'm proud to be part of the crew that makes the place run."
---
---