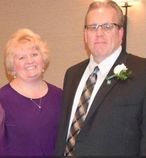 Bill and Rober­ta Wins­man both lead busy pro­fes­sion­al lives. Bill is vice pres­i­dent of Key Invest­ment Ser­vices, and Rober­ta is senior vice pres­i­dent at NBT Bank. While their careers demand a lot of time, often more than fifty hours a week, vis­it­ing the Lan­dis Arbore­tum has made a qual­i­ta­tive dif­fer­ence in their lives.
Bill admit­ted that, for 25 years, he had dri­ven by the sign for the Arbore­tum and won­dered about the place. ​"It was always a huge unknown," he said, until Karl Gustafson, a mem­ber of the Lan­dis Board of Trustees, extend­ed an invi­ta­tion to vis­it. Both Bill and Rober­ta were imme­di­ate­ly attract­ed to the hik­ing trails, the sculp­tures, and, of course, the view from the Meet­ing House deck. Roberta's inter­est in pho­tog­ra­phy found plen­ty of sub­ject mat­ter, and some of her pho­tos can be seen on the Arboretum's Face­book page.
After that ini­tial vis­it, the Wins­mans adopt­ed a ​"bring a guest" rule for every sub­se­quent vis­it and main­tained that more peo­ple need to expe­ri­ence what the Arbore­tum rep­re­sents. Bill said he fears that an appre­ci­a­tion of nature may be a ​"dying art." But places like Lan­dis keep that art alive.
Now that their two sons are in col­lege – Bill Jr. at SUNY Albany, and Joe at Lemoyne Col­lege – and they are no longer attend­ing the boys' high school sport­ing events, they plan on more time at the Arbore­tum. Both are avid hik­ers and look for­ward to explor­ing the Arboretum's new Water­fall Trail. (Bill is also putting hik­ing the Northville-Lake Placid Trail on his buck­et list.) Rober­ta is anx­ious for warmer weath­er and the many pho­to­graph­ic pos­si­bil­i­ties that spring­time at Lan­dis provides.
The Wins­mans take pride in sup­port­ing local orga­ni­za­tions, not only by serv­ing on the boards of sev­er­al non-prof­it groups, but also by their finan­cial con­tri­bu­tions. The first step in their com­mit­ment to the Arbore­tum was their gen­er­ous under­writ­ing of last year's Fam­i­ly Picnic.
The Wins­mans' path is a famil­iar one: take time out from a busy sched­ule, make a detour to vis­it the Arbore­tum, and dis­cov­er a world you nev­er thought existed.
---
---