The Arbore­tum mourns the pass­ing of Louis Suara­to, whose ser­vice was whole­heart­ed­ly appre­ci­at­ed by the Lan­dis com­mu­ni­ty. We will miss this gen­tle nat­u­ral­ist who gave so much of him­self to the Arbore­tum — by day and by night. We reprint this edit­ed por­trait from the Fall 2013 issue of the newslet­ter below.
Lan­dis Por­traits: A Look at the Peo­ple Behind the Plants at the Arbore­tum.
By, Nolan Marciniec

Louis Suara­to is a man who is tak­en by the won­ders of nature, be they light-years away or right in his own back­yard.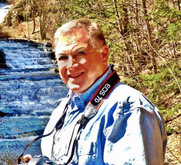 Lou relo­cat­ed to the Cap­i­tal Dis­trict in 1995, leav­ing behind a suc­cess­ful Wall Street career. While work­ing in the finan­cial ser­vices in the Albany area in the late 90s, he attend­ed the Sage Col­leges, and he need­ed a few sci­ence cred­its to com­plete his degree in busi­ness admin­is­tra­tion. His child­hood inter­est in the stars and plan­ets led him to take an astron­o­my course with Dr. George Tuck­er, whom Lou cred­its with open­ing his eyes to the mar­vels of the cosmos.
His pas­sion for astron­o­my only increased with a gift sub­scrip­tion to SLOOH, an astron­o­my web­site that allows sub­scribers to use the site's pro­fes­sion­al tele­scopes to view celes­tial events. Lou went on to become the devel­op­men­tal direc­tor for anoth­er astron­o­my web­site, Astron­o­my FM. He con­sid­ered the ser­vice so valu­able that, under a blue moon on a bit­ter­ly cold New Year's Eve in Sarato­ga Springs, he and his wife, Ann Marie, held a First Night bake sale to raise mon­ey to fund the website.
Lou bought his first ​"real" tele­scope in 2009. In con­junc­tion with the Dud­ley Obser­va­to­ry, he set it up at SPAC dur­ing the Philadel­phia Orchestra's per­for­mance of Gus­tav Holtz's ​"The Plan­ets." More than 300 con­cert­go­ers lined up to look at the plan­et Jupiter. To pre­pare for the SPAC event, he attend­ed the Albany Area Ama­teur Astronomers' (AAAA) pub­lic Star Par­ty at the Lan­dis Arbore­tum. He arrived ear­ly to hike some of the trails and was won over by the panoram­ic views of the Schoharie Valley.
He con­tin­ued to attend the star par­ties at Lan­dis as a mem­ber of AAAA and soon became a vol­un­teer at plant sales, his wife at the bake sales. When Anne Don­nel­ly, then inter­im direc­tor, approached him about join­ing the Board of Trustees, he agreed, tak­ing office in 2011.
After retire­ment, Lou focused his atten­tion on non-prof­it orga­ni­za­tions that advo­cate the preser­va­tion of the nat­ur­al world. He served for two years on the Board of the Dud­ley Obser­va­to­ry. He cur­rent­ly serves not only on the Arboretum's Board, but also on the Board of the Mohawk-Hud­son Land Conservancy.
There are many ​"cos­mic" moments in the dark skies of Lan­dis that Lou trea­sures: show­ing his sis­ter from the NYC region the Milky Way; wit­ness­ing last year's Gem­i­nids show­er, at which he count­ed 75 mete­orites in a two-hour peri­od; and view­ing a Per­sei­ds show­er – to the accom­pa­ni­ment of a cho­rus of coyotes!
Lou's oth­er avo­ca­tion is pho­tog­ra­phy, often stun­ning pho­tos of celes­tial events, but also those cel­e­brat­ing the beau­ty of nature clos­er to home, fre­quent­ly tak­en at Lan­dis. Shared on social media sites, Lou's pho­tos have proved very pop­u­lar, but he believes that they are ​"no sub­sti­tute for the real thing." ​"A lot of peo­ple don't have access to the out­doors … The Arbore­tum is a great place to expe­ri­ence nature. Right now, I'm look­ing at a hum­ming­bird in the ros­es," he said dur­ing our inter­view. ​"I didn't have to work at that, did I?" More than 500 peo­ple have ​"liked" our new Face­book page, but Lou hopes that they will vis­it in per­son. ​"But not too many peo­ple," he added. ​"The peace­ful­ness here is nice too!"
Lou encour­ages peo­ple to attend a Star Par­ty. Or to hike the trails. Or to attend a plant sale. A vis­it might lead to mem­ber­ship, mem­ber­ship to vol­un­teer­ing. ​"Every time you vol­un­teer, you help peo­ple appre­ci­ate nature," he said. And nature, both far away or close at hand, is here for all of us at Lan­dis, to be pro­tect­ed and cherished.

---
---