The Lan­dis com­mu­ni­ty mourns the loss of anoth­er old friend, Anne Jaster. Anne was known for her whole­heart­ed com­mit­ment to the nat­ur­al world, exem­pli­fied by her ser­vice on the Arboretum's Board of Trustees, as well as her ardent sup­port of oth­er area envi­ron­men­tal caus­es such as the Plot­ter Kill and Moc­casin pre­serves and the Envi­ron­men­tal Clear­ing­house. A gift­ed artist, she cel­e­brat­ed nature in her mas­ter­ful botan­i­cal draw­ings. We have includ­ed a ret­ro­spec­tive of her work in the slideshow below.
To com­mem­o­rate Anne's pass­ing, we reprint an arti­cle from our Spring 2007 issue.
LAN­DIS POR­TRAITS: A Series About the Peo­ple Behind the Plants at the Arboretum
"The Arbore­tum is my church … and heav­en is here, all around us. Look at the vena­tion on the iris – it's just mirac­u­lous! The Arbore­tum makes us stop and look at these things," she said.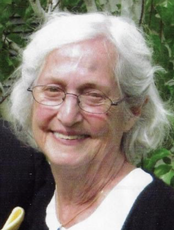 Anne Jaster remem­bered her first vis­it to Lan­dis more than twen­ty years ago. Arbore­tum founder Fred Lape invit­ed Anne and her moth­er into the ​"unim­proved" farm­house – she not­ed the hand pump in the kitchen. On anoth­er occa­sion, she and Alpine spe­cial­ist Kathie Lip­pett inves­ti­gat­ed the Quar­ry Gar­den, then over­run with saw­grass, and advo­cat­ed for its ren­o­va­tion. As a ​"fledg­ling" vol­un­teer, she did, as she said, more than her fair share of weeding.

Anne served on the Board of Trustees for six years and as its pres­i­dent from 1992 to 1994. Although she admit­ted that she is quite con­tent ​"not lead­ing," she accept­ed the posi­tion because she saw it as an oppor­tu­ni­ty to bring struc­ture to an orga­ni­za­tion she grew to love.

Anne trained as an artist and taught art in both ele­men­tary and high schools. Her pas­sion is botan­i­cal illus­tra­tion, which she pur­sues in a vari­ety of media. She has tak­en her tal­ent to many places in the world, most notably to Chile and Paraguay, and she has shared her gift by teach­ing sev­er­al class­es in botan­i­cal illus­tra­tion at the Arbore­tum. ​"Nature is art," she remind­ed us. ​"If peo­ple real­ly want to know a plant, they should draw it, see what it's all about."
Her cur­rent project is a com­pre­hen­sive illus­tra­tion of the unique flo­ra of the Pineb­ush, includ­ing the insects that feed on these plants, the most famous of which is the Karn­er Blue butterfly.
Anne's asso­ci­a­tion with the Arbore­tum has been, she said, a mix­ture of both ​"priv­i­lege" and ​"pure affec­tion." She has had the oppor­tu­ni­ty to par­tic­i­pate, first-hand, in the Arboretum's his­to­ry, work­ing with Fred Lape's per­son­al library, as well as with his cor­re­spon­dence with hor­ti­cul­tur­al­ists all over the world. And there have been sim­pler moments of priv­i­lege too: one evening after teach­ing a draw­ing class, she was moved by the unex­pect­ed sight­ing of wood­cocks in the gul­ley near the Farmhouse.
Over the years, Anne main­tained, Lan­dis has met many of her essen­tial needs. She would encour­age mem­bers and vol­un­teers to expe­ri­ence what she her­self has found at the Arbore­tum: ​"the per­son­al rela­tion­ships that can devel­op, the learn­ing activ­i­ties that are always there, and, above all, the spir­i­tu­al renew­al that comes on a long walk" on the grounds.
We're proud to dis­play some of Ann's work below.
Click Tap to view full size
---
---