The Arbore­tum com­mu­ni­ty and I were sad­dened to learn of the pass­ing of Agnes DeKay.

I met Agnes when she was in an adult home deal­ing with mobil­i­ty issues and fail­ing eye­sight. She and her hus­band Ken were friends of the Arboretum's founder, Fred Lape. They col­lab­o­rat­ed on a biog­ra­phy of Lape that con­tains an insight­ful look at his per­son­al­i­ty and his cir­cle of friends. It also includ­ed a first-hand account of what lat­er became the George Lan­dis Arbore­tum and remains an invalu­able source of its history.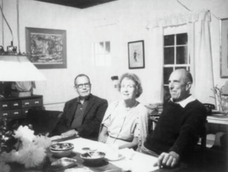 Both Ken and Agnes had a keen inter­est in art, archi­tec­ture, and gar­dens. When age and infir­mi­ty robbed Agnes of those plea­sures, she was not resent­ful. After her husband's death, she donat­ed their col­lec­tion of water­col­or land­scapes by local artists to Lan­dis, which was sold to ben­e­fit the Arboretum.

Agnes even­tu­al­ly moved to Penn­syl­va­nia to be near her niece Janet. She delight­ed in receiv­ing the Arboretum's newslet­ters, and Janet read them to her cov­er-to-cov­er. Agnes remem­bered the Arbore­tum with a gen­er­ous gift after her passing.

We reprint a por­tion of her obit­u­ary below:
Agnes A. DeKay, 95, died peace­ful­ly on Wednes­day, April 1, at her res­i­dence in Pitts­burgh, PA. Agnes was born in War­wick, NY, to par­ents Vin­cent and Veron­i­ca (Glowatz) Jurasin­s­ki. She was a grad­u­ate of the S. S. Seward Insti­tute in 1942, and a vet­er­an of the U.S. Army where she worked as a drafts­man. She stud­ied paint­ing at the Art Stu­dents League in New York City and con­tin­ued to enjoy paint­ing and col­lect­ing art through­out her life. She mar­ried Ken­neth DeKay in 1951, and the cou­ple moved to Esper­ance, NY, where they met hor­ti­cul­tur­ist and poet Fred Lape, who with LeV­an Love­land, found­ed the Lan­dis Arboretum.
Agnes and Ken­neth shared a deep love of nature and helped plant hun­dreds of trees dur­ing the nascent stages of the Arbore­tum, of which they remained life­time sup­port­ers. Agnes and Ken­neth would lat­er co-author a biog­ra­phy of Fred Lape and his role in the his­to­ry of the Arbore­tum, which can be found on the Lan­dis Arbore­tum website.
Agnes and Ken­neth even­tu­al­ly pur­chased a home in Esper­ance, a pre-Civ­il War farm­house with exten­sive acreage (now the World's End Farm) where they enjoyed the beau­ty and soli­tude of the coun­try­side for over 50 years. Agnes was a mem­ber of the Quak­er Street Meet­ing House in Delan­son, NY, before mov­ing to Pitts­burgh in 2014. An avid read­er, Agnes donat­ed over 250 large-print books to the Carnegie Library for the Blind and to the Vin­cent­ian Home library dur­ing the last few years.
---
---