Lee Lat­timer, Lan­dis His­to­ri­an, is tran­scrib­ing an unpub­lished man­u­script by the Arboretum's founder, Fred Lape, titled ​"The Year Every­thing Changed." In this excerpt, Lape is writ­ing about the late 1940s, when he was still work­ing the farm­land that became the George Lan­dis Arboretum.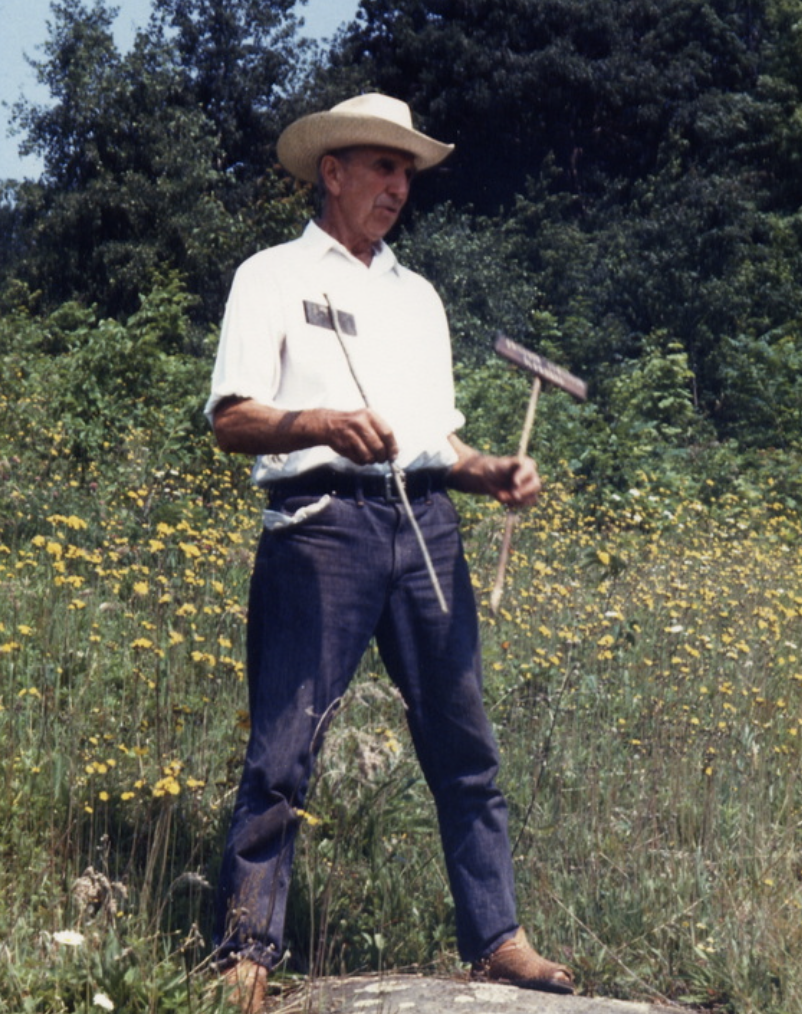 Cer­tain­ly I was begin­ning to enjoy farm­ing in those years. I enjoyed much of the out­door work, par­tic­u­lar­ly hay­ing, rid­ing around a field on a trac­tor on a sun­ny blue-skied day with the cumu­lus clouds, watch­ing the shad­ows of the clouds pass over the hills of the low­er Schoharie Val­ley, or cock­ing up hay in the fields for dry­ing, with the smell of fresh­ly cut hay lying over the fields. Dur­ing lamb­ing time, too, it was a delight to walk out to the barn on a qui­et win­ter night and see the stars glit­ter­ing in the frosty sky over­head, or lat­er to see Venus as a morn­ing star just over the east­ern horizon.

If I was enjoy­ing farm­ing so well, why did I not give up my almost prim­i­tive method of farm­ing, buy a trac­tor and new machin­ery, and trans­form the farm into a pro­gres­sive dairy farm like those of my neigh­bors, with thir­ty cows and a milk­ing machine and a new barn?
I didn't do it for two rea­sons. One was that I saw my near­est neigh­bors, the Park­ers, killing them­selves by over-work on just such a farm. Look­ing at them, I saw the dan­ger ahead if I made the change. I saw that the day of the one-hun­dred acre farm was over, except by a return to self-suf­fi­cien­cy. Suc­cess­ful mod­ern agri­cul­ture is built upon machin­ery and spe­cial­iza­tion. It has no place for self-suf­fi­cient units like the farm of my child­hood. Hard work is elim­i­nat­ed. Cows are milked by machines, plow­ing and cul­ti­va­tion are done by machines, weed­ing is done by chem­i­cals. Diver­si­ty also is eliminated.
The trou­ble is that machines and chem­i­cals cost mon­ey, and a hun­dred acre hold­ing will not in the end keep up with the cost of con­stant new machin­ery and replace­ment. A good trac­tor can eas­i­ly ser­vice three hun­dred acres, which will sup­port it. Plows and cul­ti­va­tors, har­vest­ing machines, hay balers will also serve three hun­dred acres, but again a hun­dred acres will not sup­port them with their con­stant upkeep and replace­ment. And by the time a herd of cows is fed by corn and wheat raised on the huge units of Iowa and Nebras­ka, that same grain hav­ing gone through sev­er­al hands for prof­it, the prof­its to the hun­dred acre farmer in New York are lean.

.…

The oth­er rea­son I did not change my method of farm­ing was my grow­ing dis­sat­is­fac­tion with the cul­ture into which I was born, and a desire to iso­late myself from cer­tain fea­tures of it. My retreat to the farm in the thir­ties had been a first minor step. But the peri­od after the Sec­ond World War saw per­haps the most com­plete devel­op­ment of com­mer­cial­ism the Unit­ed States had ever pro­duced. More and more mon­ey became the cri­te­ri­on of suc­cess. It pro­duced reac­tion, the hip­pies, they, like me, rebels, but in their way, not mine. I was will­ing to accept respon­si­bil­i­ty, but not to the extent of forc­ing either democ­ra­cy or tech­nol­o­gy upon the whole world, an aim whose val­ue I thought ques­tion­able. We were for the moment the strongest nation in the world. The ele­va­tion went to the head of most of our lead­ers and politi­cians. Even such a well-mean­ing and often far see­ing altru­ist as Nor­man Cousins was caught by it. We were the light of the future. It was our duty to lead all less for­tu­nate nations, cul­tures, indi­vid­u­als, to our high stan­dard. But high stan­dard of what? Did we have enough to offer to make us that arro­gant and that valu­able to human­i­ty? I doubt­ed it.
So I was sat­is­fied to keep on run­ning the farm in my own semi-prim­i­tive way. It offered me a healthy way of liv­ing with enough leisure time in which to write. As long as I did not try to make a thriv­ing busi­ness out of it, it did not lead to exhaus­tion. It allowed me to live par­tial­ly out of the main­stream of com­mer­cial hell-bent-for-suc­cess Amer­i­ca. I was satisfied.
---
---