Forc­ing bulbs indoors can be a great way to bring the col­ors and fra­grance of spring into the home dur­ing the cold dark days of win­ter. A fun project to tack­le with chil­dren or friends, a few bulbs in bloom also make a great gift for any flower lover. Tulips, hyacinths, cro­cus­es, and daf­fodils are excel­lent options.
Tim­ing is the main thing to con­sid­er when forc­ing bulbs. Typ­i­cal­ly, most bulbs need a min­i­mum 8 – 12 week cold peri­od, although you can find ​"pre-chilled" bulbs that require only 2 – 3 weeks. If you are hop­ing for blooms in the heart of win­ter, it is best to start plant­i­ng in ear­ly Octo­ber, though plant­i­ng in the new year will still promise blooms ear­li­er than most out­door spring blossoms.
To get start­ed, you will need good pot­ting soil and a clean con­tain­er (with drainage holes) twice the depth of the bulbs you will be planting.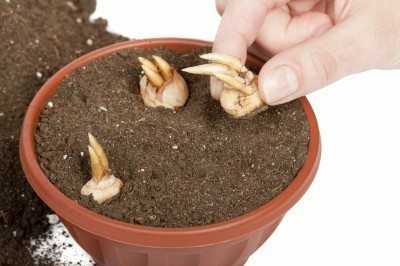 Fill the con­tain­er 1⁄2 to 2⁄3 deep with soil, then place the bulbs gen­tly on top, not press­ing in too hard. Place as many bulbs as pos­si­ble in the con­tain­er with­out their touch­ing each oth­er. A 6" wide pot can hold about 6 tulips, 3 daf­fodils, or about 15 minor bulbs such as grape hyacinth or cro­cus. Cov­er loose­ly with soil leav­ing the very tops of the bulbs exposed. Next water thor­ough­ly and label with the plant­i­ng date. Cov­er the con­tain­er loose­ly with a paper bag.
Place in a cool dark loca­tion: 35 – 45 degrees is opti­mal. An unheat­ed base­ment, attic, or attached garage can work as well as a refrig­er­a­tor. Just be sure the tem­per­a­ture is con­sis­tent and the pot remains moist at all times. After 8 – 12 weeks (depend­ing on bulb choice), remove the pot from stor­age, place in a sun­ny win­dow, and keep watered.
Even with snow out­side the win­dow, the sprout­ing of new flow­ers will be a wel­com­ing reminder that spring is on its way.
---
---