About 50 vol­un­teers were hon­ored at the Lan­dis Arboretum's annu­al Vol­un­teer Appre­ci­a­tion event, held in the Meet­ing House on the after­noon of Octo­ber 4. Board Pres­i­dent Jim Paley and Exec­u­tive Direc­tor Fred Breglia pre­sent­ed awards to two vol­un­teers for their excep­tion­al ser­vice to the Arboretum.
Vol­un­teer Flo­rence Grimm was the recip­i­ent of the Great Oak Award in recog­ni­tion of her many years of tire­less and long­stand­ing ded­i­ca­tion to the Arbore­tum. Flo­rence was unable to attend the event because of a pri­or com­mit­ment –hik­ing in the Catskills. Fred not­ed that as much as Flo­rence want­ed to be present, ​"it would take a lot for her to miss a hike or a camp­ing or canoe trip or a swim … " Flo­rence served on the Board of Trustees and chaired the Build­ings and Grounds Com­mit­tee, which over­saw the restora­tion of the Arboretum's his­toric barn. Late­ly, she has become a stal­wart in the prop­a­ga­tion room, help­ing pre­pare ​"Lan­dis grown" selec­tions for the Spring Plant Sale.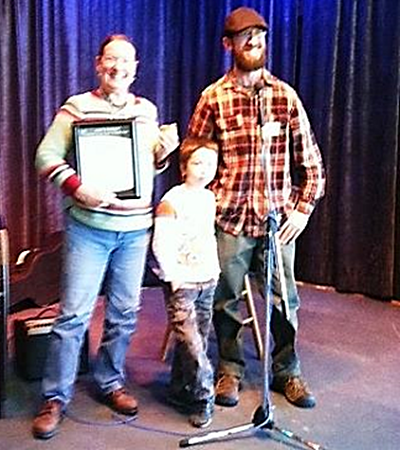 The Vol­un­teer of the Year Award was pre­sent­ed to Wendy Kass, whose vol­un­teer expe­ri­ence at the Arbore­tum was ini­ti­at­ed when her hus­band, Jim Paley, became Board pres­i­dent. Wendy admit­ted that, until then, she had nev­er vol­un­teered any­where. But vol­un­teer­ing at her first plant sale con­vinced her that she real­ly enjoyed meet­ing oth­er vol­un­teers – ​"I loved every­one I met," she said. Her vol­un­teer expe­ri­ence gained anoth­er, larg­er dimen­sion when she took on mar­ket­ing the refur­bished Meet­ing House as a venue for wed­dings, cap­i­tal­iz­ing on the trend for rus­tic wed­dings. She con­fessed that, a ​"peo­ple per­son," she is in her ele­ment: ​"I get wed­ding fever." This year alone, she has received over a hun­dred inquiries for wed­dings at the Arboretum.
The event, host­ed by the Board of Trustees, fea­tured musi­cal enter­tain­ment by Daryl Kosin­s­ki, and a selec­tion of soups, breads, and desserts. Tables were graced by paint­ed table cloths cre­at­ed by Anne Don­nel­ly's sis­ter, Kay Beaubien.
Both Fred and Jim praised all vol­un­teers as the lifeblood of the Arbore­tum. Accord­ing to Wendy, vol­un­teer­ing is ​"all about a feel­ing of self-worth and accom­plish­ment and sharing."
---
---