Those who sup­port the Lan­dis Arbore­tum – the mem­bers, vol­un­teers, Board, and staff – are often asked what they love most about it. The answers are as diverse as Lan­dis itself: the trees, trails, col­lec­tions, per­for­mances, star par­ties, and, of course, its sheer beau­ty and seren­i­ty. But espe­cial­ly regard­ed are the peo­ple who bring their tal­ents and their pas­sions like snacks in a back­pack, shar­ing them freely. Anne Frey and Earl Van Wormer are two such friends of the Arboretum.
Anne, an East­ern Api­cal Soci­ety mas­ter bee­keep­er, has taught bee­keep­ing at Lan­dis for sev­er­al years. She was ​"bit­ten" by the allure of these indus­tri­ous insects when she moved to Delan­son in 1989.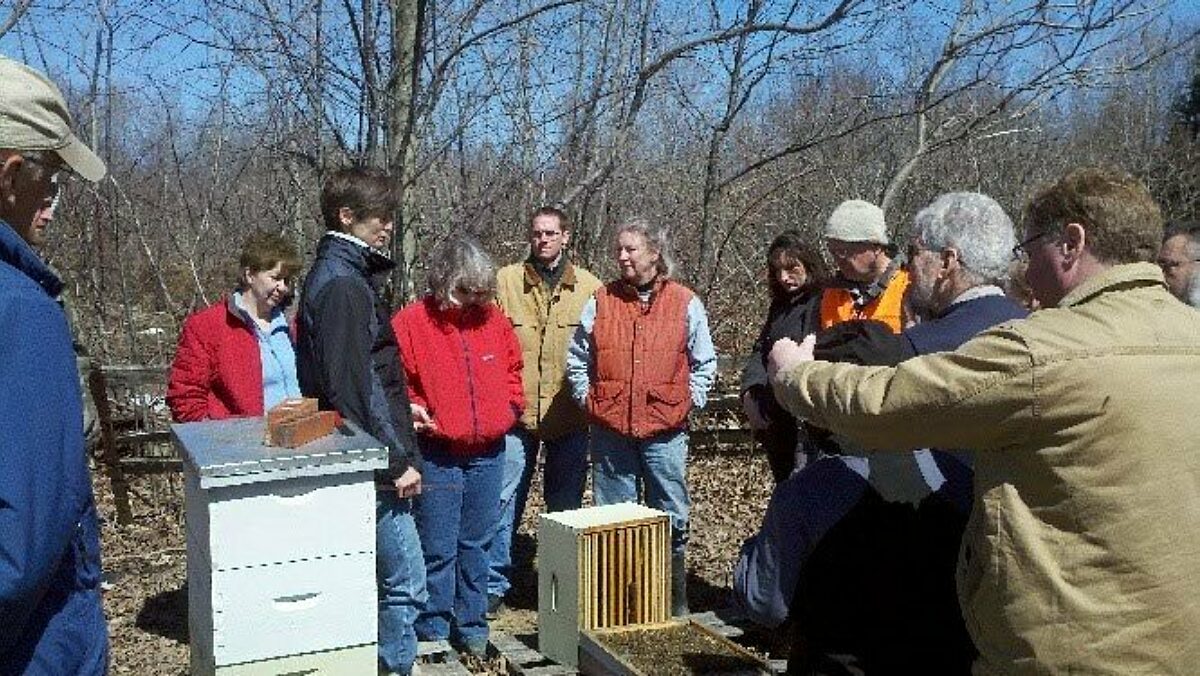 A friend who was a casu­al keep­er of bees con­vinced her to ​"do some­thing coun­try." Chick­ens or pigs didn't make Anne's short list, so she soon became an enthu­si­as­tic and knowl­edge­able bee­keep­er. This ulti­mate­ly lead to her being elect­ed pres­i­dent of the South­ern Adiron­dack Bee­keep­ers Asso­ci­a­tion and a sought-after speak­er and men­tor through­out the area and beyond.
Earl, known for his roles in local gov­ern­ment and as farmer and entre­pre­neur, serves on the Lan­dis Board of Trustees. Some time ago he approached Fred Breglia about estab­lish­ing bee hives at the Arbore­tum, a project that he felt was per­fect for Lan­dis and its edu­ca­tion­al mis­sion. He envi­sioned place­ment of the hives behind the green­house, in a fenced area that would allow vis­i­tors a safe place to view the bees' activ­i­ty. Earl now antic­i­pates site prepa­ra­tion in the fall of 2016, with the bee­yard in place by spring of 2017.
Both Anne and Earl empha­size the impor­tance of bee­keep­ers check­ing hives reg­u­lar­ly to assess the hive's health and con­di­tion, includ­ing food sup­ply, par­a­site con­trol, brood­ing sta­tus, and pop­u­la­tion size. Anne main­tains bee­yards at sev­er­al loca­tions, and gra­cious­ly pro­vid­ed my hus­band and me with a close-up look inside a hive. We suit­ed up and mod­eled Anne's calm demeanor and move­ments so as not to agi­tate the bees. We remained unscathed and care­ful­ly peered inside the frames as new bees emerged and began their short but pro­duc­tive dance of life.
Most peo­ple know that bees are essen­tial for pol­li­na­tion. Since the appear­ance of Colony Col­lapse Dis­or­der in 2006, pub­lic aware­ness of the dan­ger to bee pop­u­la­tions has increased, and with it, renewed inter­est in pro­tect­ing these vital insects. Home­own­ers find­ing bees, often with­in the walls of a res­i­dence, are now opt­ing to have the hon­ey­bees relo­cat­ed rather than exter­mi­nat­ed. Bee­keep­ers such as Earl and Anne will remove the bees, which are often health­i­er and more par­a­site-resis­tant than those found elsewhere.
Some of the trans­plants could end up at Lan­dis. Earl looks for­ward to this new dimen­sion in the Arboretum's edu­ca­tion­al pro­grams and hopes to enlist oth­ers such as Anne Frey and Nolan Marciniec, both men­tors to aspir­ing beekeepers.
Come to Lan­dis this spring. As Earl says, ​"Many hands make light work." And many bees make won­der­ful honey!
Click Tap to view full size
---
---