It's been the per­fect day. You've spent the past hour inspect­ing each table at the Plant Sale before mak­ing one more pass to be sure you haven't missed any­thing. Your cart is over­flow­ing with peren­ni­als, Lan­dis-grown veg­eta­bles, and a stack of books. You ven­ture down the hill with the help of a young man from Troop 501, sum­moned by Scout­mas­ter Chuck Stephens.
It's a famil­iar scene for many, repeat­ed each year, spring and fall. Though the Boy Scouts will be back this May, the Arbore­tum is mourn­ing the loss of our dear friend, Chuck Stephens, who passed away sud­den­ly in January.
Chuck brought qui­et and con­stant lead­er­ship to the Scouts. He loved every­thing out­doors – hik­ing, canoe­ing, camp­ing, and cav­ing. The troop came to Lan­dis in 2004, with six boys and a few adults who knew the Arbore­tum was a nat­ur­al out­door class­room in which to learn. And what adven­tures they had!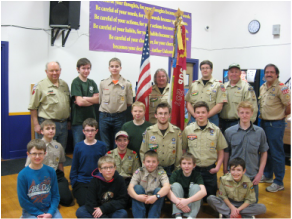 Troop 501 is now led by Chuck Whit­man. He and his wife Lisa, an Assis­tant Scout­mas­ter, recent­ly shared some of their fond­est mem­o­ries of their friend Chuck Stephens. ​"Every­thing was about the kids." Whit­man remem­bered the time Stephens gave one of his sons a car­bide lamp, indis­pens­able to the seri­ous caver. ​"That was the coolest thing… and as our sec­ond son got old­er, anoth­er one showed up." Lisa and Chuck Whit­man both recalled that Stephens ​"would do any­thing for the boys." He could be a man of few words – if few were called for – and stub­born as they come, again when need­ed. Stead­fast and loy­al to Scout­ing, and to Lan­dis, Chuck Stephens would take the first shift of camp­ing out at the Arboretum's plant sales. A soli­tary fig­ure in a sleep­ing bag, per­haps in a tent or under a blue plas­tic tarp, he was a Scout through and through.
Chuck and Lisa Whit­man are ably car­ry­ing on this impor­tant work with the troop that now num­bers 18 boys, impres­sive growth from the orig­i­nal core of only 6. This is quite an accom­plish­ment as they have no ​"feed­er group" of Cub Scouts to swell their ranks. Adult par­tic­i­pa­tion and men­tor­ing is a main­stay of the orga­ni­za­tion, with adult to boy ratio in Troop 501 typ­i­cal­ly one to one or bet­ter. Scout­ing gives boys the oppor­tu­ni­ty to learn new skills and to dream big. Even their pop­corn sales are a les­son in mon­ey man­age­ment, with much of the troop's earn­ings pro­vid­ing direct sup­port for their equip­ment and activ­i­ties. ​"Any­thing you want to do – we'll teach you," Chuck and Lisa Whit­man pro­claimed. We know Chuck Stephens would agree.
Farewell, Mr. Stephens, and thank you.
Arbore­tum-spon­sored Boy Scout Troop 501 meets Tues­day evenings at 6:30 PM at either the Lan­dis Arbore­tum or the Duanes­burg Ele­men­tary School. Vis­it their web­site at troop501es​per​ance​.scout​lander​.com, or con­tact Scout­mas­ter Chuck Whit­man at whitmancal@​aol.​com or (518) 864‑5972 for more information.
---
---