I don't quite remem­ber the first time I met Ed Miller – he was a fix­ture at the Arbore­tum for a long time before I arrived on the scene. But I do remem­ber quite dis­tinct­ly work­ing in the prop­a­ga­tion room one spring when Ed came it, his pock­ets bulging with pack­ets of seeds and nuts, a few cut­tings in his hand. This man, I thought, knows his stuff, and his enthu­si­asm for plants was con­ta­gious. A ​"John­ny Apple­seed" of native plants, I thought.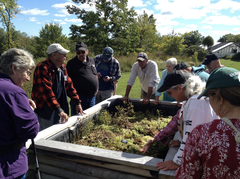 Not too long after that, I inter­viewed him for an arti­cle about his then cur­rent project, the Bog Gar­den. For Ed, it was both sci­ence and a labor of love – as were all his projects.
His knowl­edge was impres­sive: Ed could read­i­ly explain the dif­fer­ences among a bog, a swamp, a marsh, and a fen. After the inter­view, he released sev­er­al gold­fish into the tank: it was impor­tant to him that this demon­stra­tion gar­den be as self-sus­tain­ing as a bog in nature.

He under­took to teach a few of us to use ​"Newcomb's Wild­flower Guide" one sum­mer morn­ing. As we worked togeth­er to iden­ti­fy wild­flow­ers at the Arbore­tum, we could sense his appre­ci­a­tion for the log­i­cal ​"truth table" aspect of the book but also, equal­ly impor­tant, his appre­ci­a­tion for the beau­ty of nature's cre­ations in the field.
Per­haps Ed's great­est gift to the Arbore­tum was the Native Plant Trail. Along this half-mile trail, Ed plant­ed and nur­tured near­ly 200 species of native plants, arranged into twelve fam­i­lies, in four habi­tats. Walk­ing the trail using the QR codes that Ed record­ed is an edu­ca­tion, but walk­ing the trail with Ed him­self was a priv­i­lege and a delight. I remem­ber hear­ing him muse about the sex of the sumac – how male might become female just to insure the sur­vival of the species. And who knew that the Rose fam­i­ly was so diverse – to include apples, spirea, and ninebark? Ed quipped: a rose is a rose except when it's not a rose. And of course, there was Ed's sheer joy in the Musi­cal Bridge, at the same time not­ing the cor­re­la­tion between length of the cylin­der and the pitch of the sound.
He wrote guide­books and mem­oirs and arti­cles for our newslet­ter. He won awards, includ­ing the Arboretum's Great Oak award. But above all else, Ed was ​"down to earth" – in every sense. He could com­mu­ni­cate the won­ders of the nat­ur­al world to any audi­ence, from the trained botanist to the back­yard gar­den­er. And he wasn't afraid to get his hands dirty.
Click here to read Bog Mas­ter: A Con­ver­sa­tion with Ed Miller, an arti­cle about Ed by Nolan Marciniec in our Sum­mer, 2010 Newsletter.
---
---