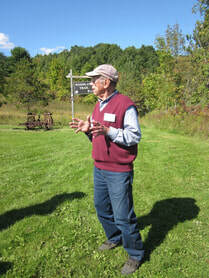 As a new vol­un­teer at Lan­dis, I was per­suad­ed to join the Com­mu­ni­ca­tions Com­mit­tee and write a book review. A nov­el assign­ment – some­thing I hadn't tack­led since my col­lege days – and the start of a near decade-long rela­tion­ship with a tru­ly remark­able man, Native Plant Trail Cura­tor Ed Miller.
Ed's Adven­tures of the Mind is a series of per­son­al essays com­pris­ing a win­dow to his then 85 years. This mem­oir intro­duced me to the engi­neer and the botanist, the glob­al trav­el­er, and the advo­cate for local green spaces. The charm­ing but self-effac­ing Ed seemed to enjoy the glow­ing review and the oppor­tu­ni­ty to men­tor yet anoth­er Lan­dis vol­un­teer about all things native and horticultural.
When­ev­er you ran into him at an Arbore­tum event, Ed was always eager to share his lat­est dis­cov­ery in the wild or an idea for a newslet­ter arti­cle about a top­ic of eco­log­i­cal sig­nif­i­cance. His longevi­ty belied but also enhanced his child­like won­der at the world around him. After I echoed his fond­ness for the Amer­i­can blad­der­nut along the trail, he saved a par­tic­u­lar­ly fine spec­i­men for me at our next plant sale.
If you timed it right and found him sit­ting under the ​"Experts" tent just before the start of his pop­u­lar tour, you might be treat­ed to his announce­ment of a new book just as like­ly to enlight­en and delight as a new project, such as his ini­tia­tive, through the Amer­i­can Chest­nut Foun­da­tion, to estab­lish dis­ease-resis­tant chest­nut seedlings at the Arboretum.
Always mind­ful of the need for the Arbore­tum to think of the future and to focus on sus­tain­abil­i­ty and acces­si­bil­i­ty, Ed was a gold­mine of both cre­ativ­i­ty and good old Yan­kee prac­ti­cal­i­ty. He lob­bied suc­cess­ful­ly for the tran­si­tion to QR codes to enhance the visitor's expe­ri­ence of his native plant col­lec­tion. He uti­lized the Arboretum's new­ly acquired golf carts to allow inter­est­ed par­ties of any age or phys­i­cal abil­i­ty to trav­el the trails he had tend­ed for so many years.
We will miss you, Ed, but the foot­print you left us at Lan­dis is as big as that of Sasquatch and not near­ly as elu­sive. You are every­where at the Arbore­tum. Rest in peace, my friend.

If you would like to read the review of Adven­tures of the Mind, click here to vis­it our web­site newslet­ter archive.
---
---