At Lan­dis, the fall usu­al­ly means that the Arbore­tum com­mu­ni­ty gets togeth­er to express our grat­i­tude to all of our vol­un­teers and to rec­og­nize two very spe­cial vol­un­teers. At this event, we present the Vol­un­teer of the Year Award and the Great Oak Award. But 2020 changed every­thing. With the safe­ty of our vol­un­teers first and fore­most in mind, we have can­celled the annu­al Vol­un­teer Recog­ni­tion event. This year's recip­i­ents will receive their cer­tifi­cates by mail and be pub­licly rec­og­nized, along with the 2021 recip­i­ents, next year.
Great Oak Award
Some­times ser­vice seems to run in the fam­i­ly. That is cer­tain­ly the case for the Bevins fam­i­ly. Shawn and Ann began vol­un­teer­ing at the Arbore­tum over twen­ty years ago, after mov­ing back into the area from Con­necti­cut. They are reg­u­lars at plant sales, Shawn direct­ing traf­fic, Ann cashier­ing. It was prob­a­bly ​"nat­ur­al" for their son Ter­rence to join in at plant sales and oth­er­wise. Ter­rence and his father have been instru­men­tal in com­plet­ing the new Peace Gar­den. With this award, the Bevins fam­i­ly is rec­og­nized for many years – and two gen­er­a­tions – of service.
Vol­un­teer of the Year Award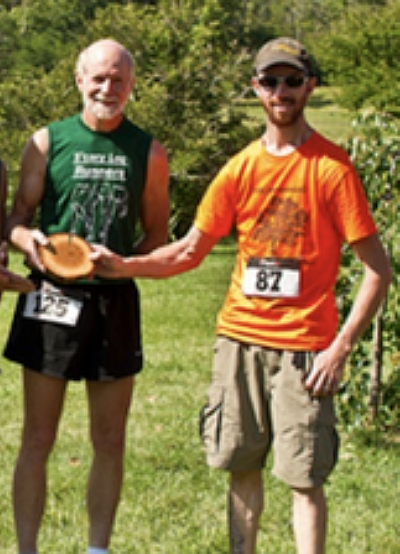 Vet­er­an run­ner David Roy and his S'cary Leg Run­ners have been involved with the Lan­dis Peren­ni­al For­est 5K since its incep­tion 14 years ago. Despite the for­mi­da­ble chal­lenge of plan­ning a com­pet­i­tive race in this year of COVID-19, David remained undaunt­ed. He craft­ed a plan for a race that could be held safe­ly. His plan includ­ed a lim­it­ed num­ber of par­tic­i­pants, online reg­is­tra­tion, ful­ly chip-timed pro­cess­ing, staged start times for small groups of run­ners, and oth­er pre­cau­tion­ary mea­sures. This year's race became one of the very few events approved by the region­al author­i­ties – and thrilled the race-starved participants.
---
---