We thought you'd enjoy this arti­cle, orig­i­nal­ly pub­lished in the Fall 1990 issue of The Newslet­ter, because it fea­tures just one of the many unique fea­tures of the Lan­dis Arbore­tum. It was writ­ten by Direc­tor Pamela Rowling.

The accom­pa­ny­ing draw­ing is by long-time mem­ber and sup­port­er, Anne Jaster.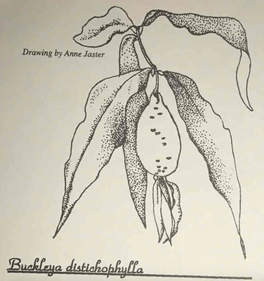 San­dal­wood, aro­mat­ic and sweet smelling, is per­haps the best known mem­ber of the pre­dom­i­nant­ly trop­i­cal plant fam­i­ly San­ta­laceae. Uncom­mon in tem­per­ate regions, this group is rep­re­sent­ed in the grow­ing col­lec­tions of the George Lan­dis Arbore­tum by Buck­leya dis­ti­chophyl­la. Buck­leya is named in hon­or of S. B. Buck­ley, Amer­i­can botanist who lived from 1809 to 1884.

This genus encom­pass­es five species. B. dis­to­chophyl­la is spring green, decid­u­ous and bears its slen­der leaves oppo­site along slen­der arch­ing stems. The plant is said to reach an even­tu­al height of 12 feet; how­ev­er, old spec­i­mens at the gar­den have only attained 6 – 7 feet in height. Plants are dioe­cious: the flow­ers of both sex­es are green and incon­spic­u­ous. Female blooms are soli­tary, while the male flow­ers are small­er and borne in ter­mi­nal umbels.

​A fas­ci­nat­ing char­ac­ter­is­tic of Buck­leya is that it is a ​"root only" par­a­site and must be grown in close prox­im­i­ty to its host plant Tsuga (hem­lock). The matur­ing ovary forms a green drupe, pecu­liar in its char­ac­ter­is­tic of allow­ing only one ovule to devel­op and that this resul­tant seed lacks a seed coat. Buck­leya is prop­a­gat­ed by seed which, as pre­vi­ous­ly men­tioned, must be grown near a hem­lock. In our lim­it­ed expe­ri­ence, the asso­ci­a­tion does not severe­ly ham­per the host plant.

Our spec­i­mens are found grow­ing in the flat area just above the Quar­ry Rock Gar­den. A two-foot spec­i­men was recent­ly spot­ted grow­ing as a vol­un­teer in the wood­land area by the Meet­ing House. Buck­leya is grown in col­lec­tions pri­mar­i­ly as a nov­el­ty: its light, open appear­ance and ​"Granny Smith apple green" leaf col­or make it quite appeal­ing. Its abil­i­ty to grow in rel­a­tive­ly deep shade height­ens the col­or con­trast of its foliage.

Look for this plant on your next Arbore­tum visit.
---
---