"

Nature inspires cre­ativ­i­ty in a child by demand­ing visu­al­iza­tion and the full use of the sens­es… In Nature a child finds free­dom, fan­ta­sy, pri­va­cy…" from Last Child in the Woods by Richard Louv.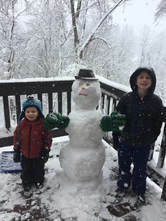 It has been a long, cold win­ter and the view from the Lan­dis Arboretum's Meet­ing House Deck now looks out over an expanse of snow. As any young moth­er can tell you, kids are active in any weath­er and the Arbore­tum offers chil­dren plen­ty of oppor­tu­ni­ties to work off some of that ener­gy. Erin Breglia, the Arboretum's gar­den­er, and her two sons, Mikey, age 2, and Fred­dy, age 7, share their insights about the Arboretum.
Janis Hart: How has your life changed since you had your children?

Erin Breglia: My per­spec­tive on life has dras­ti­cal­ly changed since moth­er­hood. I am focus­ing more of my ener­gy on my fam­i­ly rather than my own endeav­ors. I see life as more pre­cious and want to make the most of the time I have been given.

JH: How has your per­spec­tive on the Meet­ing House changed since you had your children?

EB: Before I viewed the deck as a spot to sit back and relax and take in the amaz­ing sur­round­ings. Now I see the stairs and the space as a place [for my boys] to run around and play chase. I can also get a great view of my kids when they play on the grounds below the deck!

JH: What oppor­tu­ni­ties does the Arbore­tum offer to fam­i­lies with young chil­dren?

EB: I feel strong­ly about the Full Moon Music Series as a great time for all ages. Chil­dren 12 and under [can attend for] free, and it is a BYO event, so it is fun to bring snacks and enjoy an evening pic­nic. The kids that attend are always mak­ing new friends, run­ning around and play­ing out­doors. Also the pro­grams giv­en by George Steele are so very infor­ma­tive and enter­tain­ing for chil­dren and adults.
JH: What are your favorite things to see and do at the Arboretum?

Fred­dy: Trees, hik­ing, snow­shoe­ing, running .…
JH: What activ­i­ties are you most inter­est­ed in doing?

Fred­dy: Hik­ing the trails. Using the QR read­er on the Native Plant Trail. See­ing the live per­for­mances, espe­cial­ly the Met­tawee Riv­er The­ater.

JH: Which sculp­ture is your favorite and why?

Mikey: The big dinosaur!

Fred­dy: The Dino because I like dinos!

JH: How would you con­vince oth­er kids to come to the Arboretum?

Fred­dy: I would tell them ​"because it's fun". The books at the book sale are real­ly cool. The peo­ple are real­ly nice. We can roll down the hills and play hide-and-seek.

Nature, with all its won­der, diver­si­ty, and some­times adver­si­ty, can impart so much to those that seek its guid­ance. Bring your child to the Lan­dis Arbore­tum to look, lis­ten, and learn all it has to show.
---
---