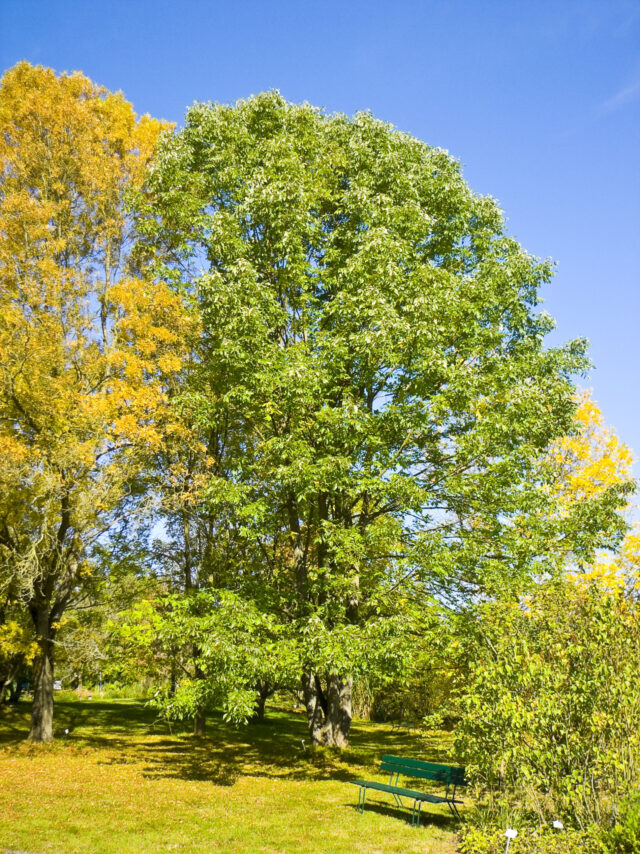 We know it. One may have grown in the back­yard of our child­hood home. It is a ​"nice tree." It doesn't have one sin­gle out­stand­ing fea­ture to cap­ture our atten­tion and asso­ciate it with a name. We know the lilac and mag­no­lia, but our back­yard tree may still be name­less. Let us get acquaint­ed with the white or Amer­i­can ash, Frax­i­nus amer­i­cana, a real­ly ​"nice tree."
What do Lit­tle Lea­guers, King Arthur, and Bent­wood chairs have in com­mon? You may have guessed – ash is the con­nec­tion. Ash wood is elas­tic, shock resis­tant, and strong. It is tough, yet bend­able and light­weight. The unique char­ac­ter­is­tics of the wood have yield­ed a pletho­ra of uses, includ­ing base­ball bats, ten­nis rack­et frames, hock­ey sticks, polo mal­lets, spears, tool han­dles, oars, scythes, hay­forks, plows, fur­ni­ture, bowl­ing alleys, church pews, and air­planes. Some­times the wood has unique grain pat­terns which are used for veneers and inte­ri­or fin­ish­ing. As fire­wood, how­ev­er, ash is mediocre. Also ash is not suit­able for out­door uses as it does not hold up in con­tact with damp ground. For the herbal­ist, a white ash leaf rubbed on a bee sting or mos­qui­to bite sup­pos­ed­ly relieves the itch­ing. It does appear that ash has touched all of our lives.
Accord­ing to Algo­nquian Indi­an folk­lore, an arrow shot into an ash tree cre­at­ed the human species. The Norse­men and Greeks have sim­i­lar leg­ends. Per­haps the stuff of leg­ends has to do with the fact that most ash­es are large trees and that their wood was asso­ci­at­ed with weapons and tools. The white ash, although non­de­script in many respects, makes a large pleas­ant­ly shaped dom­i­nant fea­ture on the land­scape, whether in the nat­ur­al envi­ron­ment or cul­tured. The white ash and oth­er ash­es world­wide must have touched the spir­it of those ear­ly Indi­ans, Norse­men, and Greeks.
About six­ty species of ash are found world­wide in the North Tem­per­ate Zone. Each species has its own dif­fer­en­ti­at­ing char­ac­ter­is­tics but all have cer­tain traits in com­mon. Ash­es are relat­ed to olives, priv­et, lilacs, jas­mine, Chio­nan­thus, and for­syth­ia. To be spe­cif­ic, the ash­es belong to the olive fam­i­ly, Oleaceae, many of which are warm tem­per­ate or trop­i­cal species. In a sense, most ash­es are north coun­try cousins, lack­ing the petaled flow­ers, fra­grance, and desir­able fruits of oth­er olive fam­i­ly mem­bers. The wood, how­ev­er, does con­tain an oil sim­i­lar to olive oil. White ash is a good cop­pic­ing species – it sprouts from the stumps of fall­en trees. The roots of the cut trees regen­er­ate shoots at a remark­able rate. Young fast grow­ing trees pro­vide the desired sap­wood sought by most ash wood users. The tree also trans­plants eas­i­ly and is pH and sun tol­er­ant. Land­scap­ers espe­cial­ly look to the white ash for fast growth in prob­lem areas.

To dis­tin­guish white ash, Frax­i­nus amer­i­cana, look for these tell-tale mark­ers. The com­pound leaves are pin­nate with five to nine (usu­al­ly sev­en) wavy edged and stalked leaflets. The leaves are green above and whitish green downy sur­faced beneath. The leaves are oppo­site each oth­er on the stout twigs. Leaf scars are cres­cent-shaped to semi­cir­cu­lar. The flow­ers are dioe­cious, with sex­es on sep­a­rate trees. The flow­ers are petal­less and appear before the leaves. The fruit is a sin­gle-winged sama­ra, one to two inch­es long.
The white ash cov­ers har­di­ness zones three to nine and has done well in Europe, as few of our tree species have. The native dis­tri­b­u­tion extends from Nova Sco­tia to Flori­da and west into Min­neso­ta and Texas. The best growth is in well-drained, moist and loamy soil. It will exceed twen­ty feet in twen­ty years, rapid growth for a hard­wood species. White ash in the vir­gin for­est sup­pos­ed­ly reached 175 feet. One of the largest present­ly is locat­ed in Pal­isades, New York, and is 95 feet with a trunk cir­cum­fer­ence of 25.3 feet.
---
---