We are excit­ed to add new fea­tures to the Arboretum's long-estab­lished and peren­ni­al­ly pop­u­lar Spring Plant Sale.
This May, vis­it the ​"Bulb Bar." Grab a bag­gie and select your choice of bulbs, corms, or tubers. Mix and match options to cre­ate a small dis­play near your front door or choose sev­er­al bulbs of the same type to begin a col­lec­tion that can be expand­ed by vis­it­ing the Bulb Bar again at the Fall Sale.
Col­lect­ing spec­i­mens of a sin­gle type can be a fun way to choose plants for the land­scape. To cre­ate a lilac dis­play like the one at Lan­dis Arbore­tum, select from our new ​"Love­ly Lilacs" cat­e­go­ry, which show­cas­es plants of dif­fer­ent heights and col­ors. We will offer two or three dif­fer­ent species or cul­ti­vars each spring so that you can install a pre­ferred spec­i­men or, over time, amass an impres­sive collection.
Because of our con­nec­tions with spe­cial­ty grow­ers and nurs­eries, we will offer lim­it­ed num­bers of ​"Rare and Unusu­al Spec­i­men" plants. Try out a dwarf ever­green or an inter­est­ing shrub with var­ie­gat­ed leaves. We hope to expand this cat­e­go­ry at future sales, and we wel­come requests.
Many home­own­ers have lim­it­ed space for plants. It can be daunt­ing to decide which plants will fit under a bay win­dow or squeeze next to a side­walk. Make the deci­sion eas­i­er by inspect­ing our new col­lec­tion of ​"Small Trees and Shrubs for Small Spaces."
Weigela flori­da is a much-loved flow­er­ing shrub, but many cul­ti­vars are too tall or sprawl­ing for restrict­ed spaces. The cul­ti­var ​'My Mon­et' remains about 12" tall and 18" wide, a per­fect choice for edg­ing a side­walk. It flow­ers pink in May/​June, like oth­er cul­ti­vars of the species, but the real attrac­tion is that each leaf dis­plays blotch­es of pink, white, and green from the new growth in spring, through the sum­mer, and into the autumn. It prefers full sun, and some­times attracts hummingbirds.
Since many of our mem­bers have asked for help in select­ing plants to attract pol­li­na­tors and birds, we are adding a ​"Pol­li­na­tor Plant" cat­e­go­ry, which will fea­ture two or three spe­cial plants that pro­vide nec­tar, pollen, seeds, or nest-build­ing materials: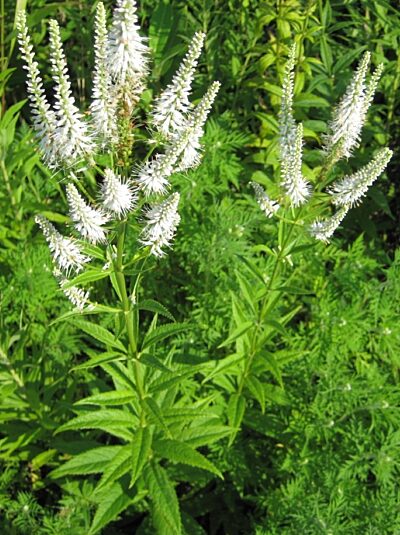 Veron­i­cas­trum vir­ginicum ​'Fas­ci­na­tion' (Culver's root) flow­ers in July/​August with soft pink can­de­labras on red-tinged foliage, which cre­ates an over­all plant size of 3' – 4' tall by 2' – 3' wide. It tol­er­ates zones 3 – 8 in full sun to light shade. Though it can take sev­er­al years to estab­lish, it will pro­vide nec­tar or pollen for bees, wasps, flies, but­ter­flies and oth­er ben­e­fi­cial insects.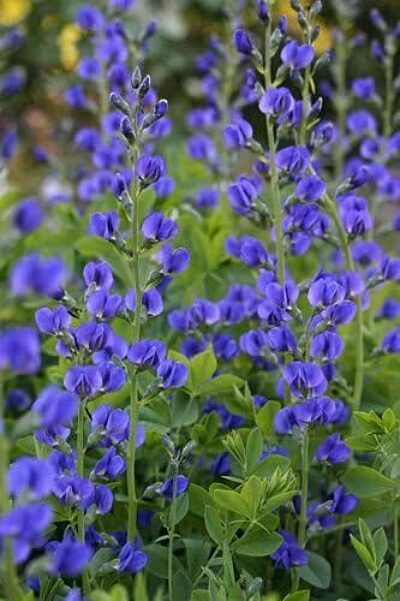 Bap­tisia aus­tralis (false indi­go) forms a round mound of foliage with tall spikes of showy flow­ers above. Hardy in zones 4a – 9b, it tol­er­ates full sun to part shade, but some cul­ti­vars per­form bet­ter with more sun. After flow­er­ing, the spikes trans­form into inter­est­ing seed pods. Bap­tisia is deer-resis­tant, but attrac­tive to pol­li­na­tors when flow­er­ing at the end of spring into the ear­ly sum­mer. Gar­den­ers report that long-tongue bees, short-tongue bees, but­ter­flies, and hum­ming­birds will vis­it the flow­ers, but in my expe­ri­ence it is usu­al­ly the long-tongue bum­ble­bees that monop­o­lize the plant and pro­vide long hours of view­ing enter­tain­ment. We will fea­ture the Bap­tisia cul­ti­var ​'Amer­i­can Goldfinch,' which sports yel­low flower spikes on a 3' – 4' tall shrub that can spread 4' – 6'. Also, look for ​'Pink Lemon­ade,' with stalks of yel­low flower buds that change to pink and then laven­der, cre­at­ing stun­ning, mul­ti-col­ored spikes on a plant that grows 4' tall by 4' wide.
PLEASE NOTE: There will be lim­it­ed sup­plies of these fea­tured plants, so your best bet at get­ting one is to come to the Mem­bers Only Pick of the Pots Sale (POPS) on Fri­day, May 17, 4:30 to 6:30 PM . Get first crack at plants, enjoy com­pli­men­ta­ry hors d'oeuvres, and receive the mem­bers' 10% dis­count on your plant pur­chas­es. Not a mem­ber? Don't wor­ry — you can join at the gate!
We have always had experts at the sales to help with plant selec­tion, but now we are adding ​"Tiny Talks," which are free info-ses­sions about a sin­gle plant or top­ic. Mod­eled after ​"Tail­gate Talks" used in the land­scap­ing indus­try, these infor­mal mini-class­es are five to ten min­utes long, and may include a brief slideshow or a short walk in the peren­ni­al gar­den. Exec­u­tive Direc­tor Fred Breglia will share plant instal­la­tion tech­niques, and hor­ti­cul­tur­al­ist Amy Howan­sky will give specifics about fea­tured plants.
If you have an inter­est in herbs, join Gert Cole­man in the Library on Sat­ur­day, May 18th at 10:30 AM. In this hands-on pro­gram, learn what herbs go with what foods and how to use herbs and spices to enhance your health. Mem­bers: $10/​person; non-mem­bers: $20/​person.
---
---