After the suc­cess of the ​"Small Shrubs for Small Spaces" cat­e­go­ry at the Spring Plant Sale, we will con­tin­ue the theme at the fall sale – and bring­ing your atten­tion to plants notable for fall color:
Itea vir­gini­ca ​'Lit­tle Hen­ry' remains 3' feet tall by 3 feet wide in matu­ri­ty, and forms a full, round­ed mound. Itea is known for its long, white, fin­ger-like flow­ers in late spring to ear­ly sum­mer. The flow­ers are slight­ly fra­grant, sug­gest­ing the com­mon name ​"Vir­ginia sweetspire."
Sad­ly, gar­den­ers often for­get to include the shrub on their list of impor­tant plants for fall. The leaves turn a deep, but soft, bur­gundy which is the per­fect com­pan­ion for an adja­cent plant­i­ng of a fall-bloom­ing peren­ni­al with white or pink flow­ers, or a shrub with char­treuse leaves.
Clethra alni­fo­lia is anoth­er shrub pri­mar­i­ly pur­chased for its flow­ers. In sum­mer, they poke out in abun­dance all over the plant, attract­ing pol­li­na­tors and humans with their heavy per­fume. The scent is so strong that you can often locate the plant in the gar­den by fol­low­ing your nose. Once the flow­ers fade, how­ev­er, don't for­get about Clethra's use­ful­ness in the fall gar­den. The leaves turn a bright yel­low, pro­vid­ing a beau­ti­ful com­ple­ment to pur­ple-flow­er­ing peren­ni­als like asters. An added ben­e­fit is Clethra's abil­i­ty to sur­vive in wet sites, so it works well in areas that get tem­porar­i­ly sog­gy in the spring or after a heavy rain­fall. Clethra cul­ti­vars range in size from 2' to 8' tall.
Our ​"Fea­tured Peren­ni­al" cat­e­go­ry will focus on plants that pro­vide food sources for pol­li­na­tors and birds that need to ​"stock up" before they migrate or pre­pare for over-wintering.
It is impor­tant to pro­vide pollen and nec­tar in the gar­den as late in the sea­son as pos­si­ble, which is easy to do with asters. Sym­phy­otrichum novae-angli­ae (New Eng­land aster) is native to the east­ern Unit­ed States, prefers full sun, and grows read­i­ly in gar­dens or along the sides of roads and fields.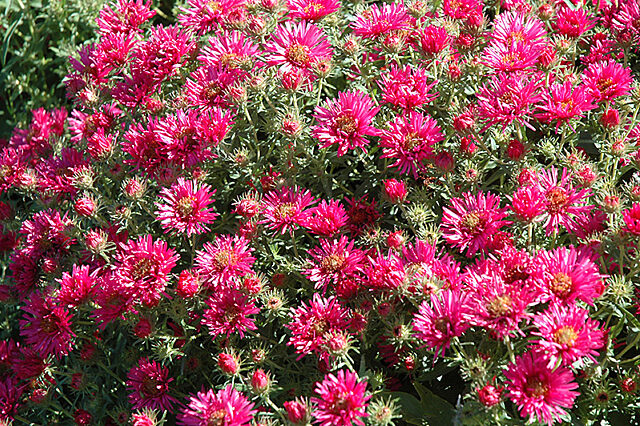 The aster cul­ti­var ​'Alma Potschke' matures at 2.5 – 4' tall by 2.5 – 4' wide. It is a favorite among gar­den­ers because its pro­fuse hot-pink flow­ers pro­vide a bright spot of col­or in the fall land­scape, and because it is often cov­ered with but­ter­flies. Once, when installing some plants already in full bloom, co-work­ers and I car­ried sev­er­al plants from a hold­ing area to the instal­la­tion site. As we walked to the plant­i­ng area, but­ter­flies hov­ered around us while they tried to set­tle on the open blooms.
Anoth­er plant that cre­ates a ​"buzz" among gar­den­ers is Les­pedeza thun­bergii (bush clover). It is a semi-woody shrub that dies back to the ground at the end of each year, but then re-grows to its full size dur­ing the fol­low­ing year. In the spring, del­i­cate new stems emerge from the ground, and take all sum­mer to devel­op into a large shrub with a grace­ful, weep­ing habit. Les­pedeza can get 6 – 7' tall by 8' wide, so it needs space in the gar­den to allow for its mature size. It seems like the stems are in bud for­ev­er, teas­ing us with the pos­si­bil­i­ty of flow­ers, but not deliv­er­ing until ear­ly Sep­tem­ber. When it final­ly does bloom, the reward for wait­ing is spec­tac­u­lar. Small, pink, pea-shaped flow­ers cov­er the branch­es, weigh­ing them down until the tips touch the ground.
Most expe­ri­enced gar­den­ers will tell you that fall is an excel­lent time for plant­i­ng peren­ni­als and woody plants. Lan­dis' Fall Plant Sale is open to the pub­lic on Sat­ur­day and Sun­day, Sep­tem­ber 7 and 8, from 10 AM to 4 PM. The mem­bers-only ​"Pick of the Pots" pre­view par­ty will be held on Fri­day evening, Sep­tem­ber 6, from 4 – 6 PM.
---
---