Sev­er­al years ago, I went to the Lan­dis Arbore­tum Spring Plant Sale on a mis­sion. I was deter­mined to break out of the mold of my usu­al zin­nias and marigolds and plant some­thing dif­fer­ent — some­thing unusu­al, col­or­ful, gor­geous, more excit­ing than petu­nias and pan­sies. I want­ed some­thing that would last, so I wouldn't have to stock up on flats of annu­als every spring. I want­ed some­thing dif­fer­ent, some­thing that would real­ly make a statement.
I shopped around the entic­ing rows of plants with strange and unfa­mil­iar names. I con­sid­ered grace­ful ferns, flow­er­ing shrubs, fra­grant herbs. Then I came face-to-face with a gan­g­ly, strange-look­ing character.
A few flop­py oval leaves were bal­anced on a pur­plish stem jut­ting out of the plas­tic pot. ​"Poke­weed," the label declared, adding help­ful­ly that it was a native plant. This piqued my inter­est, as I know that native plants are impor­tant for wildlife, and pol­li­na­tor num­bers are decreas­ing and all that. I always meant to plant more natives. The plant was cer­tain­ly not gor­geous, but it was kind of endear­ing, like a flop­py-eared old hound. So I splurged (three dol­lars!) and lugged my new poke­weed home.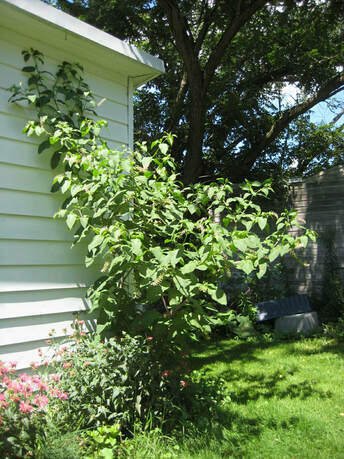 I gave it a favored spot in the gar­den and wait­ed con­fi­dent­ly to see what would hap­pen. And the first year, what hap­pened was noth­ing much. A few leaves poked out of the earth, just sort of sat there all sum­mer, and then turned brown in the fall. Sec­ond year, same thing. A low clus­ter of oval leaves, no fruit, no flow­ers, noth­ing. Third year, same. Fourth year, same. I want my three dol­lars back.
But the next year, some­thing hap­pened. Noth­ing I did, for sure. Per­haps it was the stars align­ing, or the right weath­er, or maybe the root had just final­ly gath­ered enough strength for the ener­gy-drain­ing busi­ness of repro­duc­tion, but for what­ev­er rea­son, that poke­weed final­ly start­ed growing.
By May, it was knee high. In June, it was shoul­der high. And then it real­ly took off. By sum­mer, the plant had hit twelve feet and showed no signs of stop­ping. A wealth of ver­dant leaves shad­ed the gar­den cor­ner. But the best part was the flow­ers. An indi­vid­ual poke­weed flower is unre­mark­able: a small yel­low­ish-white blos­som. But dozens of them are strung on long clus­ters, and they were con­stant­ly sur­round­ed by a cloud of tiny insects. Not the showy pol­li­na­tors, the swal­low­tails or hon­ey­bees. These were lit­tle native bees and wasps and bee­tles, none of them big­ger than a grain of rice. For all those tiny, unno­ticed pol­li­na­tors, poke­weed was the life­line they'd been look­ing for.
And all those native species of insects are cru­cial for the food chains of song­birds. These lit­tle bugs are the kind of thing that hum­ming­birds feed their young. This is the kind of high-ener­gy food that blue­birds and kinglets and war­blers need.

In fall, the poke­weed sit­u­a­tion just got bet­ter. The incon­spic­u­ous whitish flow­ers meta­mor­phosed into dan­gling chains of ruby-col­ored berries strung on pur­ple stems. Did I men­tion I'd been look­ing for col­or­ful and gorgeous?
Poke­weed berries are high-qual­i­ty nutri­tion for car­di­nals, mock­ing­birds, cat­birds, phoebes, mourn­ing doves, cedar waxwings, and oth­ers. A big poke­weed like this could real­ly make a dif­fer­ence for bird life. Do note though: sad­ly, those mag­nif­i­cent berries are tox­ic to humans, so this is not the best plant for a children's yard.
My poke­weed now returns faith­ful­ly every year, although it nev­er got so enor­mous again — now it set­tles in at a mod­est chin height. But here and there on the edges of the lawn I'm notic­ing poke­weed pop­ping up among the non-native Queen Anne's lace and crab­grass and hon­ey­suck­le. That one big plant was a reser­voir for seeds, which birds are now spread­ing around my farm. Plant­i­ng one native plant — just one! — can real­ly make a dif­fer­ence. It can slow­ly help to turn a gar­den into a habi­tat, a wel­com­ing place that will nur­ture pol­li­na­tors and songbirds.
---
---