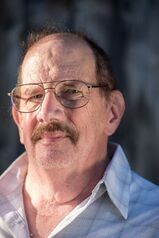 Well, to be accu­rate, it's not ​"in town", it's at the Arbore­tum. And I'm not exact­ly new to the Arbore­tum. But I do have a new posi­tion. For sev­er­al years I have had many roles here: his­to­ri­an, Board mem­ber, Com­mu­ni­ca­tions Com­mit­tee mem­ber. And for even longer I have been a vol­un­teer. You prob­a­bly have seen me at the plant sales, 5Ks, and oth­er events. In my capac­i­ty as one of sev­er­al ​"traf­fic con­trollers" at plant sales, I might even have told you where to ​"park it"! And now, as of last Octo­ber, I have served the Arbore­tum as office man­ag­er, tak­ing over the posi­tion from Nan­cy Stueb­n­er, who held the posi­tion for 10 years.

The George Lan­dis Arbore­tum is very spe­cial to me. I enjoy walk­ing its trails and exam­in­ing its plants and wildlife, espe­cial­ly the birds. But more impor­tant­ly, I admire all the peo­ple that make Lan­dis such a great insti­tu­tion. Every­one I've encoun­tered here is ded­i­cat­ed to mak­ing the Arbore­tum the best it can be. And I look for­ward to help­ing them achieve that goal.
My time in the office varies, but usu­al­ly I am avail­able Mon­days and Thurs­days start­ing at 11 AM. Dur­ing the busy spring and sum­mer months I will also be there on Tues­days, same time. But I check the phone mes­sages (518−875−6935) and emails (info@​landisarboretum.​org) reg­u­lar­ly, so don't hes­i­tate to get in touch with me.
---
---