There's a chem­i­cal that is found in every green plant – every tree, grass blade, bush, cac­tus, moss, rose­bush, what­ev­er. It's called chloro­phyll, a green pig­ment that absorbs just the right wave­length of sun­light to jump­start the com­plex chem­i­cal process, pho­to­syn­the­sis, where­by plants make food. Chloro­phyll enables plants to trans­form air, sun­light, and water into sug­ars that nour­ish the plant and any­thing that eats it. Chloro­phyll is, real­ly, the basis of life on this planet.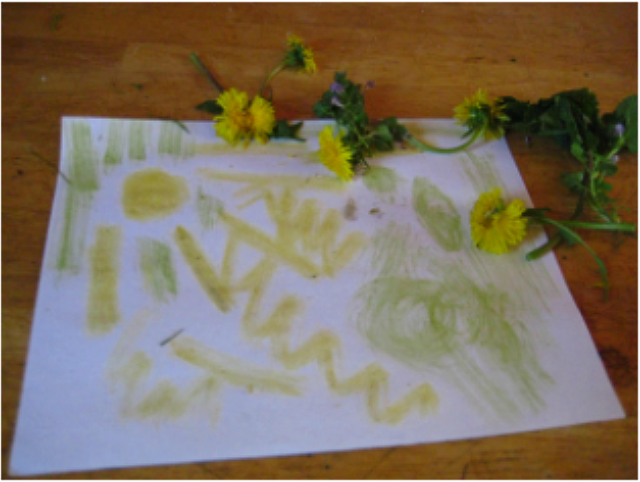 Chloro­phyll is also the stuff that puts grass stains on the knees of your pants. It's a pig­ment, remem­ber, which is basi­cal­ly paint. It's the rea­son plants all over the world are green and not pink or blue. And it occurred to me one day, as I was fruit­less­ly try­ing to scrub the indeli­ble stains from my favorite jeans — could this remark­ably per­sis­tent green col­or­ing some­how be used as an art material?
So I try it. A hand­ful of clover and dan­de­lion leaves, rubbed firm­ly on white paper, leave a star­tling­ly bright green stripe. Nature's cray­on. Hmmm. This is sort of fun. I exper­i­ment with oth­er wild pig­ments. Yel­low dan­de­lion flow­ers give a sun­ny yel­low stripe. Rasp­ber­ries yield psy­che­del­ic pur­ple. Wild grapes pro­vide a rich plum col­or. Blue­ber­ries are dis­ap­point­ing: just beige goop. I haven't exper­i­ment­ed with apples yet.
Why, you may ask, is this enter­tain­ing but triv­ial idea so impor­tant, wor­thy of a newslet­ter arti­cle? Because, for chil­dren these days, nature is some­thing you Just Don't Touch. Dur­ing field trips, when I ask stu­dents what they think the most impor­tant rule of the Arbore­tum is, they one and all cho­rus, ​"Don't touch any­thing!!!" Think about it — wasn't that the rule on every field trip you ever went on? ​"You see with your eyes, boys and girls. Please don't touch!"
But kids need to touch the real world. They need to pick grass blades, and fool around with dan­de­lions, and count the petals on daisies to dis­cov­er if ​"he loves me or he loves me not." They need to get their fin­gers stained with wild grapes and rasp­ber­ries and get wet and mud­dy and grass-stained. But it's get­ting hard­er to per­suade kids to do these things. Fear of germs, ticks, rabies, germs, strangers, germs .… Kids don't mess around much with nature any more. But there's some­thing about crayons that no kid can resist.
So, par­ents, grand­par­ents, aunts and uncles: this sum­mer, give it a try. On some rainy day or dur­ing a dull pic­nic, get a big sheet of paper. Grab some clover and dan­de­lion leaves and paint that chloro­phyll all over the place. Pick some dan­de­lions and paint bold yel­low suns. Exper­i­ment with some oth­er col­ors, too — pur­ple lilacs, red tulip petals, orange day lilies. There's a whole Cray­ola box out there along the trails and in the gardens.
---
---