The Mar­ket­ing Com­mit­tee, chaired by Karl Gustafson, is con­tin­u­al­ly brain­storm­ing the most cost-effec­tive man­ner to pro­mote the Arbore­tum and attract vis­i­tors to this hid­den gem.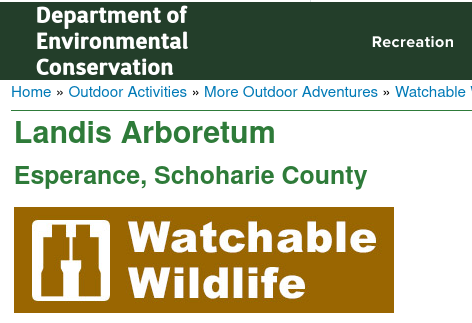 The George Lan­dis Arbore­tum is now fea­tured in many ​"I Love NY" pro­mo­tions, includ­ing the ​"I Love NY" signs recent­ly placed on I‑88 that iden­ti­fy the Arbore­tum as a local tourist attrac­tion. Lan­dis is list­ed on page 59 of the 2016 ​"I Love NY Trav­el Guide" as a Cen­tral New York ​"Must See" in the out­doors cat­e­go­ry; a detailed descrip­tion appears on page 81. These pro­mo­tions, as well as a brief seg­ment in the ​"I Love NY" TV ads, are all part of a col­lab­o­ra­tive effort among busi­ness­es and attrac­tions in the greater Schoharie region. Lan­dis, along with four of our advo­cates, was recent­ly high­light­ed on Ann Parillo's cable show ​"Sch­enec­tady Today," pro­duced at Proctors.
Sub­scribers to the NYS DEC's ​"Con­ser­va­tion­ist" mag­a­zine receive New York's ​"Wildlife View­ing Guide." Pages 98 – 100 rec­om­mend Lan­dis as a good site to observe wildlife. [Click on the image to the left to vis­it Lan­dis on DEC's New York Watch­able Wildlife website.]
The Schoharie Val­ley Asso­ci­a­tion pro­motes busi­ness­es and not-for-prof­its through­out the Route 30 cor­ri­dor. The Arbore­tum is list­ed as a tourist des­ti­na­tion in its Vis­i­tor's Guide. Addi­tion­al­ly, the Schoharie Coun­ty Cham­ber of Com­merce con­tin­ues to pub­li­cize Arbore­tum events and programs.
Each year in late March, the Arbore­tum hosts pop­u­lar work­shops at the Cap­i­tal Dis­trict Gar­den and Flower Show at Hud­son Val­ley Com­mu­ni­ty Col­lege. Lan­dis vol­un­teers also staff the Arboretum's infor­ma­tion booth at this pop­u­lar three-day event.
Vol­un­teers, Board of Trustee mem­bers, and of course, Direc­tor Fred Breglia, are out and about in the region con­stant­ly, either as rep­re­sen­ta­tives of the Arbore­tum at var­i­ous func­tions, serv­ing as speak­ers or pan­elists, or col­lab­o­rat­ing ​"behind the scenes" with our rec­i­p­ro­cat­ing part­ners. For exam­ple, the Arbore­tum dec­o­rates a tree (with birds, botan­i­cals and beasts) at the NY Pow­er Author­i­ty's annu­al Decem­ber Fes­ti­val of Trees. This year, Lan­dis vol­un­teers col­lect­ed items for the Fort Plain Catholic Daugh­ters of America's ​"Secret Angels" project, which pro­vides hol­i­day bas­kets to vet­er­ans at the VA Hos­pi­tal in Albany.
Thanks to the efforts of the Mar­ket­ing Com­mit­tee, the charms of Lan­dis are being made known to thou­sands. So don't be sur­prised if you notice our logo on a restaurant's place­mat. Or if there is a prun­ing demon­stra­tion by Fred at your next Gar­den Club meet­ing. We want the world to know what we know – that the George Lan­dis Arbore­tum is a great place – and per­haps a not-so-hid­den gem — to visit!
---
---