I often find myself look­ing through my small library of store bought pack­ets and ran­dom­ly col­lect­ed seeds. Just look­ing at my seed col­lec­tion inspires me. I think about the upcom­ing sea­son and all the plants I hope to grow.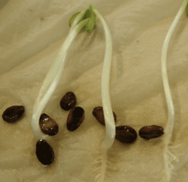 Over the years, I have learned that, if stored prop­er­ly, seeds can have a much longer shelf life than most gar­den­ers expect — espe­cial­ly if you are as hope­ful (and as fru­gal) as I am. Faced with the demands of child­care, run­ning a house­hold, and a rel­a­tive­ly short grow­ing sea­son, I am not one for wast­ing time with seeds that are no longer viable, and so I've learned of an easy way to ver­i­fy the via­bil­i­ty of my seeds before spend­ing time dig­ging in the dirt. This tip will be help­ful to deter­mine which seeds in your col­lec­tion will ger­mi­nate – before you start fill­ing those con­tain­ers with pot­ting medi­um and before you are disappointed.

You will need a damp paper tow­el, a seal­able plas­tic bag, and a marker.
Damp­en the paper tow­el so it is moist but not sop­ping wet.
Place the seeds you are test­ing or ger­mi­nat­ing on one half of the paper tow­el. Leave a lit­tle space between them.
Fold the oth­er half of the paper tow­el over the seeds.
Place the fold­ed flat paper tow­el inside the seal­able plas­tic bag. Seal three quar­ters of the bag, leav­ing a small open­ing. Label the bag with seed name and date.
Place the flat­tened bag in a dark draw­er or cabinet.
After four days, check on the seeds by open­ing the bag and paper tow­el. The seeds should be absorb­ing the water and puff­ing up, even­tu­al­ly sprout­ing. If they haven't sprout­ed, give them more time and keep the paper tow­el moist. Con­tin­ue to check on them dai­ly. If noth­ing hap­pens by a week or so, the seeds are prob­a­bly not going to sprout.
Once the seeds do sprout, you can trans­plant them into a pot or, if the out­door tem­per­a­tures are warm enough, straight into the ground.
---
---