It began over a cup of tea.
For many years, Vijaya Lux­mi had main­tained a small gar­den ded­i­cat­ed to the mem­o­ry of her par­ents in the Vil­lage of Cobleskill. It was a place where senior cit­i­zens rest­ed and chil­dren played and where Vijaya and her friends some­times danced under the big maple tree. It was, how­ev­er, on munic­i­pal prop­er­ty, and although Vijaya's gar­den had the per­mis­sion and the bless­ing of vil­lage author­i­ties, it was destroyed by a con­struc­tion crew work­ing on a highway.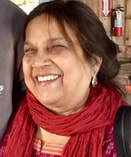 Still griev­ing the loss of her gar­den, Vijaya ran into her friend Anne Don­nel­ly, a long­time Arbore­tum sup­port­er, and invit­ed her to share a cup of tea. Over that cup of tea, Vijaya's vision for a med­i­ta­tion gar­den at the Arbore­tum took shape.
Trees have always had a spe­cial mean­ing for Vijaya. She grew up in India, and her home was sur­round­ed by trees, pome­lo and man­go, gua­va and fig – and there was a huge ​"people's tree," where peo­ple gath­ered in its shade.


She nev­er lost her love for trees, despite her mov­ing to the States and then to Africa and back to the States again, rais­ing her three sons, work­ing at a day­care cen­ter, and oper­at­ing her ​"one of a kind" bou­tique in Cobleskill. She began to dream of birch trees.

And birch trees will a sig­na­ture part of the gar­den at the Arbore­tum. Already the Shan­ti Vun Med­i­ta­tion gar­den has a small pond, a bridge, and a pavil­ion in place and incor­po­rates an exist­ing labyrinth. Land­scap­ing will take place in the spring, with the assis­tance of the Arboretum's Hor­ti­cul­ture Com­mit­tee. A memo­r­i­al stone to Vijaya's father, Shri Dar­shan Lal Garg, and moth­er, Shri­mati Kam­la Devi, will be placed there. To be sure, it will include a grove of birch­es, each tree spon­sored by an indi­vid­ual – ​"and when the wind blows the branch­es, we will all be danc­ing togeth­er," Vijaya said. It will be a place for chil­dren to learn about nature: Vijaya believes that chil­dren are the lead­ers of the future. It will be a space for spir­i­tu­al renew­al.

​"Shan­ti Vun" means ​"peace for­est."

Even in its unfin­ished state, it is draw­ing vis­i­tors to the Arbore­tum. Vijaya her­self has come there to drum, or to watch the sun set, or, quite sim­ply, just to be.

She was encour­aged in her vision by her friend, Anne Don­nel­ly, and by her eldest son, Nikhil Kumar. She praised the Arboretum's lead­er­ship, Jim Paley, Board pres­i­dent, and Fred Breglia, Lan­dis' exec­u­tive direc­tor, for their role in mak­ing her vision a real­i­ty. The Shan­ti Vun Med­i­ta­tion Gar­den is ​"my main hap­pi­ness," Vijaya said. ​"I want to leave some­thing behind when I'm gone."

Vijaya remem­bered that fate­ful meet­ing at which she pre­sent­ed her idea for the gar­den. ​"I was as ner­vous as a school­girl," she remem­bered. She noticed the big birch in front of the Farm House with its out­spread limbs. ​"Like open arms," she said, ​"like a wel­come."

A chance meet­ing, a cup of tea, a dream becom­ing real­i­ty. It might well be karma.
Infor­ma­tion about the Shan­ti Vun Memo­r­i­al Gar­den and forms for spon­sor­ing a tree are avail­able at vijayas​bou​tique​cobleskill​.com.
---
---