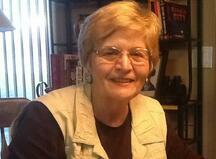 Sue Tri­cario admit­ted that books and vol­un­teer­ing are ​"in my life blood" — and that both led her to the Arbore­tum. Sue, the recip­i­ent of the 2018 Vol­un­teer of the Year award, said that her com­mit­ment to Lan­dis' book shop just seemed ​"the nat­ur­al thing to do."
Sue has always been an avid read­er, and her read­ing list is eclec­tic and all-inclu­sive. She instilled her love of books in her three chil­dren by read­ing to them from their ear­li­est years on. The Amish barn that hous­es her antiques busi­ness grad­u­al­ly ​"mor­phed" into a used book store. Then one year she read the ​"fine print" on an Arbore­tum plant sale ad and real­ized that books as well as plants were a big part of the spring and fall sales. She worked along­side Ken and Mar­i­on Hotopp and, as she said, ​"their spir­it rubs off." Sue became a reg­u­lar book shop vol­un­teer and Lan­dis enthusiast.
The Hotopps have will­ing­ly ced­ed some of the respon­si­bil­i­ty for the books sales to Sue, but she said that her men­tors Ken and Mar­i­on will always remain ​"the book­ies" who began the tra­di­tion of book sales at Lan­dis and will remain active­ly involved in its suc­cess. Just last year, the book sale and the raf­fle (which Sue intro­duced) brought in over $2000 in rev­enue for the Arboretum.

Vol­un­teer­ing is just who she is, she explained. Her vol­un­teer­ing has run the gamut from Can­dy Striper in high school to the Elks in her mar­ried years, from blood dri­ves to soup kitchens. She served as pres­i­dent of the Jef­fer­son His­tor­i­cal Soci­ety and, dur­ing the win­ter months she spends in Flori­da, she is active in the local Friends of the Library.
But her vol­un­teer­ing expe­ri­ence at Lan­dis is dif­fer­ent, she said: it's " a unique oppor­tu­ni­ty … [at] a very unique place: the lev­el of coop­er­a­tion is so incred­i­ble. There are no demands: what­ev­er you give is appre­ci­at­ed … " Sue also point­ed out that ​"it boils down to the peo­ple. I get the warmest feel­ing [from them]. I've met such a vari­ety of peo­ple here, but there is a com­mon­al­i­ty in gar­den­ing and books … and pro­tect­ing the land for future generations."

Sue grew up on what had been a 70-acre farm in New Jer­sey, and her gar­den there includ­ed both veg­eta­bles and peren­ni­als. But for more than 40 years, she and her fam­i­ly spent their sum­mers in Jef­fer­son, cre­at­ing mem­o­ries that she and the chil­dren still cher­ish. Sue per­ma­nent­ly relo­cat­ed to Schoharie Coun­ty after her retire­ment from the legal depart­ment at John­son & John­son in New Brunswick, NJ – tak­ing care to bring a cut­ting of a lilac that grew in her grandmother's gar­den. Although she has accli­mat­ed to life in Upstate NY, she admit­ted that the short grow­ing sea­son still leaves her with green toma­toes in August! (She has since dis­cov­ered Shaul's pro­duce stand.) ​"I've lived a blessed life," Sue said. She counts the Arbore­tum as one of her bless­ings. And we are blessed to have her.
---
---