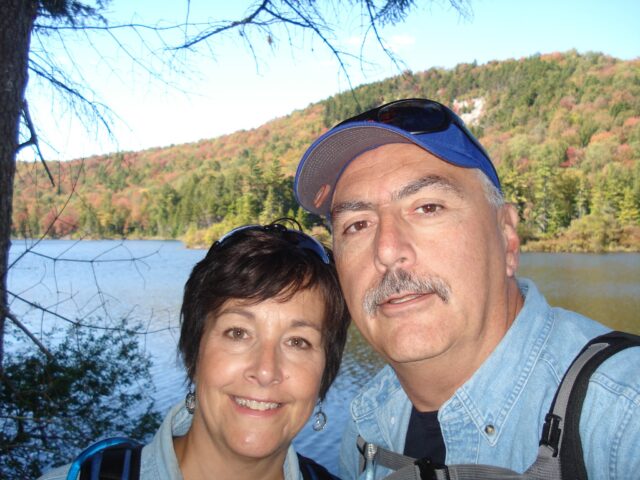 Dar­cy and Chet Zink attribute their time spent at the Arbore­tum to ​"the ener­gy of vol­un­teer­ing." Both agree that meet­ing peo­ple with a shared pas­sion for the envi­ron­ment has been ​"con­ta­gious" and reward­ing, while con­fess­ing that new plants are def­i­nite­ly an added bonus!
They didn't hes­i­tate to admit that it was their two chil­dren, Alisha and Ian, who first brought them to Lan­dis about 20 years ago. Chet con­ced­ed that ​"free" and ​"out­doors" were a sell­ing point. Dar­cy remem­bered that it was a sti­fling sum­mer day when they vis­it­ed. The fam­i­ly walked the trails, sat under the Great Oak, and enjoyed a picnic.
After becom­ing mem­bers and shop­ping at the plant sales, vol­un­teer­ing was inevitable. Dar­cy con­fessed that it was all her doing, but Chet insist­ed it was a ​"dual effort." Con­tact­ed by Vol­un­teer Coor­di­na­tor Anne Don­nel­ly, the Zinks have now become reg­u­lars at plant sales and musi­cal events. This year, they rep­re­sent­ed the Arbore­tum at the Win­ter Fest at Gilboa. They cer­tain­ly would have been at this spring's plant sale too, if they hadn't had a trip to the British Isles with Darcy's pen­pal (since ele­men­tary school) from Australia.
Both are recent­ly retired from stress­ful and demand­ing jobs. Retire­ment has been full: activ­i­ties like hik­ing and kayak­ing, knit­ting (Dar­cy), wood­work­ing (Chet), church, social­iz­ing, trav­el­ing .… and, of course, gar­den­ing. Their Glenville gar­dens fea­ture a bed of David Austin ros­es, a hos­ta-lined dri­ve­way, and sev­er­al raised beds of veg­eta­bles. The peren­ni­al gar­dens include many of Darcy's mother's plants. Every year she uses seeds to grow a zin­nia gar­den to remem­ber her moth­er, who loved zinnias.
The cou­ple is enthralled with all that Lan­dis has to offer. Chet is intrigued by the kind of learn­ing that takes place at the Arbore­tum, say­ing, ​"This learn­ing from peo­ple … is a lost part of edu­ca­tion." Dar­cy inter­ject­ed that ​"there's always some­body who knows" at the Arbore­tum, adding that ​"every­one we've ever met at the Arbore­tum has been won­der­ful." Chet instanced the Ed Miller Native Plant Trail, which gives vis­i­tors an oppor­tu­ni­ty to com­pare vari­a­tions with­in a species. They both want to explore the new Water­fall Trail. Chet thinks of the view from the Meet­ing House deck. Dar­cy thinks of the flow­er­ing quince that got away at a pre­vi­ous plant sale.
Both Chet and Dar­cy fol­lowed a path famil­iar to many vol­un­teers. It's a trail that begins with just one vis­it, then the splen­dor of the place demands that, through their effort, future gen­er­a­tions will enjoy and love it as well.
---
---