"Silence is a beau­ti­ful thing," Ann Bevins not­ed. ​"Some­times peo­ple for­get that qui­et can change a per­son: it can make you some­how different."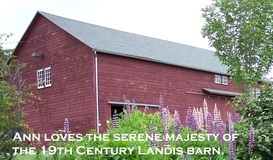 Ann and her hus­band Shawn first vis­it­ed the Arbore­tum after they moved back to their native Schoharie Coun­ty from sev­er­al years in Con­necti­cut. They were build­ing their home and fol­lowed the signs to the Arboretum's plant sale. Since that first sale near­ly 20 years ago, both Ann and Shawn have been plant sale stal­warts, Ann as cashier and Shawn as park­ing attendant.
The qui­et places at Lan­dis appeal to her most. She rec­ol­lect­ed the still­ness of one late spring snow­storm that blan­ket­ed the plant sale. Ann loves the serene majesty of the Arboretum's 19th Cen­tu­ry barn. ​"I some­times stand inside and look at the beams – it's a piece of art, the con­struc­tion is a work of art," she said.
"Places like the Arbore­tum are increas­ing­ly rare. Tru­ly under­val­ued, under­rat­ed. If we don't pre­serve them, they're gone," she said. ​"Peo­ple don't spend enough time out­side, so it may be dif­fi­cult for them to see the pur­pose [of the Arbore­tum]. There are few­er and few­er places with clean air, dark skies, no traf­fic noise. Peo­ple for­get that."
Ann com­ment­ed that, hav­ing grown up on a Mid­dle­burgh farm, both Schoharie Coun­ty and plants are in her blood. Even the 30 acres of clay and rocks at her Esper­ance home haven't deterred her from build­ing a col­lec­tion of daylilies and hostas.
Now that her two boys are out of the house and the days of head­ing the boost­er club and trav­el­ing the sports cir­cuit are over, Ann is ​"prac­tic­ing retire­ment." She has time to read now, most­ly the clas­sics: Ann is now work­ing her way through the Dick­ens nov­els. She cred­its her moth­er and an influ­en­tial 6th grade teacher for her love of the intro­spec­tive art of reading.
Although Ann is still work­ing full-time for New York State as project man­ag­er in the Office of Infor­ma­tion Ser­vices, she agreed to join the Lan­dis Board of Trustees in 2015. She cred­it­ed Anne Don­nel­ly, for­mer inter­im direc­tor, Jim Paley, the cur­rent Board pres­i­dent, and Wilma Jozwiak, the cur­rent vice-pres­i­dent, for hav­ing applied ​"qui­et pres­sure." She said, ​"It just seemed to be the next log­i­cal step."
Ann con­fessed that she is by nature ​"still a coun­try girl" and not accus­tomed to social­iz­ing but hav­ing, like most peo­ple she knows, ​"an altru­is­tic streak." Her vol­un­teer­ing at the Arbore­tum has led her a lit­tle out of her com­fort zone – a good thing, she said. Vol­un­teer­ing is ​"some­thing you need to do" for what you believe in. Besides, she said, ​"it's fun." It means meet­ing inter­est­ing peo­ple too: ​"Open spaces breed cre­ative people."
Ann spoke from expe­ri­ence: the qui­et of the Arbore­tum has worked its sub­tle mag­ic on her – and many others.
---
---