Ani­ta Sanchez, illus. by Luisa Uribe. Clar­i­on, $17.99 (40p) ISBN 978−0−358−38144−0
A poet­ic text delves into the intri­ca­cies of a puddle's ecosys­tem in this buoy­ant pic­ture book by Sanchez, which intro­duces a child who watch­es a local pud­dle over the sea­sons, observ­ing its vis­i­tors, which include bats, birds, insects, mam­mals, plant life, and toads and tadpoles.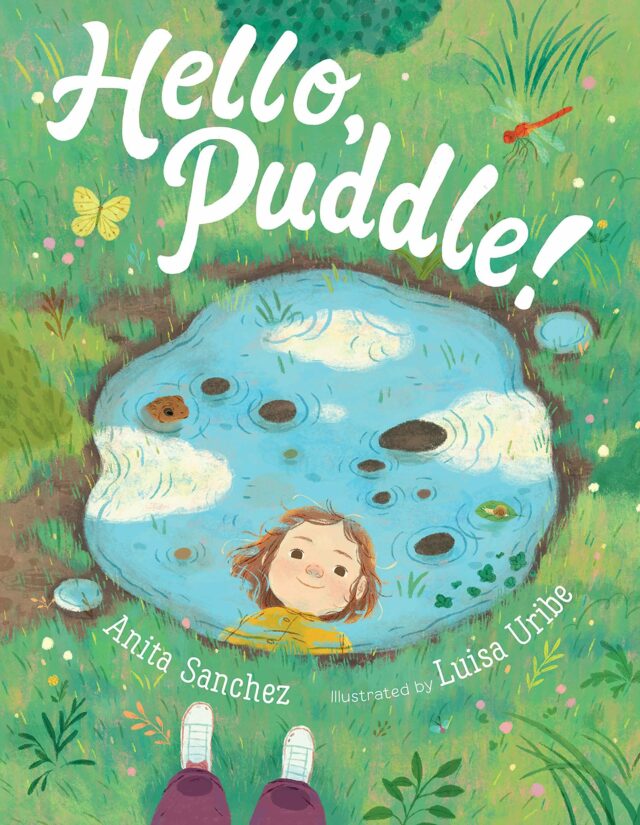 In-depth facts append each lyri­cal line: ​"Swal­lows loop the loop," reads one spread, por­tray­ing four swal­lows sweep­ing around the pud­dle, which is sur­round­ed by ver­dant plants. Small­er text beneath reads, ​"Barn swal­lows grab a beakful of mud. They'll raise their babies in a dried-mud cra­dle." Intri­cate, thin-lined spreads by Uribe clear­ly mark the chang­ing sea­sons and weath­er in har­mo­nious col­or palettes stud­ded with sweet­ly styl­ized crea­tures. A curios­i­ty-stok­ing explo­ration of the way even the small­est bod­ies of water sus­tain life.

Back mat­ter includes an author's note and sug­ges­tions on mak­ing one's own pud­dles. Ages 4 – 7. (Mar.).
---
---